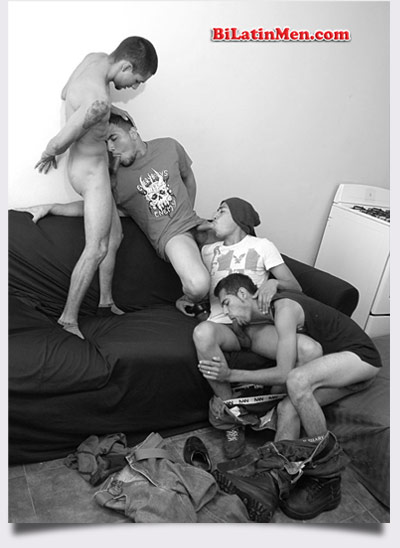 El Hijo del Jardinero (The Son of the Gardener)
I was the one who wrote my cholo cousin.
Thank you all for your loving emails. So next time send me a pic so I can know my fans.

I'm very light skin due to the fact that I have more Spanish blood than Mexican. I'm 5'6", very slim, dark hair and light blue eyes.
But due to the curse that we have in my family sooner or later we lose our blue eyes to dark brown or gray… so now I have dark brown eyes. 

So I'm still In Acapulco and last time I didn't describe the place. So we live in a very wealthy subdivision. So the house is like 3 houses: there is the main house, the family house and the guest house. So there are three houses then a pool and a garden. The pool and garden face the ocean, and my room is in the main house and it has these windows that go from ceiling to floor. So I have a nice view.

So I go down to the garden to take some sun and get a tan since it's next to the pool. And I'm wearing these Tommy Hilfiger bikini shorts.  So I'm there,  just texting and drinking a glass of wine and just enjoying the sun.  And then I start to hear noises and I pause my iPod touch, and look around and I see this sexy dark skinned guy with some shorts and no shirt.

He said hello sir, still remember we have servants in the house. So I say hello and he just went on with his work in the rose garden.

So I go back to my iPod and turn around and then I try to put some sunscreen on because I don't want to burn myself and I can't reach my back, so I ask Miguel if he could come over, he does and I just notice he has a six pack and some hair and just a beautiful smile and dimples so he is basically very cute, but I didn't put attention to it, so I asked him if he could put sunscreen on my back and I just layed down and he started to rub some on my shoulders and then my back but I mean he was literally giving me a massage then he put some on my lower back, and then he got to my butt and lowered down my bikini and started squeezing them.

Now by this time I was in pure lust and then he stood up and asked, "Is that all my principito?" (Everyone there calls me principito because I'm the youngest grandson. Well not really, but my grandmother raised me and spoiled me.)
And I asked him, "Who is in the house?"
He told me no one since everyone was at church. I was like, "When are they coming back?"
He answered, "In an hour or maybe 3. Is there something you would like to do?"
I was like,"No, I'm fine for now but why don't you stay here?"
He said, "Of course but what about my duties? "
I said, "Your duties are ok for now, since I'm in charge of the house, you don't have to worry."
So we talked about nothing really and then I told him, "It's hot. Why don't you take your shorts off."
He stood up and just took it off. I saw he had a nice body and well of course since he was always working in the house. So I asked him stuff about the house and the staff members and about him.  He told me he was single so I was like, "Why since you are very cute?"

He told me, "But not as cute as you."
Then my phone rang and it was my boyfriend back in Spain but since he was on vacation too he went to France. And we started to talk in French, and all I saw was the expression in Miguel's face and I could not help it but laugh, so I hung up on my boyfriend. Don't get me wrong I love him a lot, but me and him are only dating bc I don't want him going with someone I don't like from the boarding school we attend but other than that is nothing really. So back to the gardener's son.
He asked what I and my friend were talking about and I said nothing really and it was the truth.  Then he saw my tummy and asked me, "Does that thing bother you?"
I was like, "What? My piercing? Nope, it's just normal. I don't feel it no more."
At the time I was wearing one my boyfriend got me for our first month anniversary which is like an oval with little diamonds around and in the middle it has this black stone that shines in the sunlight.
So time passed and I was like ok what eva so I acted like I had too much wine and just leaned over him and started kissing him. He put his arms around me and started to nibble on my ear my beck and to put his fingers around my lower back dimples.
I noticed he was hard and let me tell you, he is uncut with a nice bush, some low hanging balls and a big dick probably 10 inches of pure lust and amazing sex.

He got down off the lounge chair we were sitting on and put my legs on his shoulders and started to eat me out like there was no tomorrow, and I have a habit of playing with my piercing when guys do this to me. He continues doing this for the longest time. By now I was so excited and just wanted him inside me.

I told him to lay down, and I just sat on top of him. I told him to take it slowly so I won't get hurt . I started to lower myself on his dick, but he grabbed my waist and pushed his dick all the way inside me. I screamed a lil but he took my head and started to make out with me. He was pounding me as fast and hard as he could. He went out fast and came in slowly.
I felt his balls slapping my ass. I leaned back and arched my back and just let him abuse me however he wanted. His fingers travelled to my nipples and he started to trace them with his fingers then he cupped them and started to suck on them like he wants me to breast feed him ( lol )

We continued to do this for the longest time. It felt so nice having the ocean breeze on my back and the sun hitting us making us both sweat, and just continue to make love. Like he did me rough but at the same time lovingly
He then grabbed my dick and started to jack me off. Minutes passed n I felt his dick inside me start to pulsate and grow bigger.
Then I heared him feeding me with all his majestic cum, deep inside me. He did not get tired and flipped me on all fours and just got back at it like nothing had happened. He continued to fuck me this way but now he was whispering little nothings to my ear, and slapping my butt.
And going full speed again.
Minutes passed and he came for a second time again, so by now I felt cum dripping to my legs. We laid there just kissing and resting. Then he told me he has to go clean himself up, but he hoped to see me again if I let him. I said of course he can see me again.

He left and I just jumped inside the pool, since all the staff knows that sometimes I like to take nude dips on the pool.
Thanks again for all your support and let me know that you guys think about this story.