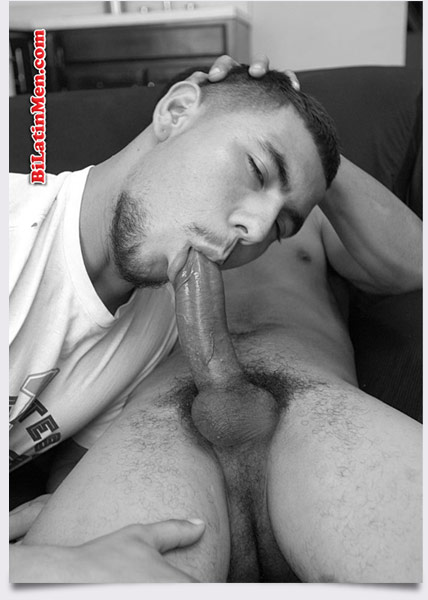 Hey what's up my names Jesse. I wrote about my cholo experience in "Thug Life Love."
Well, like you guys read there, I messed around with a homie named Armando.
He would cum daily to my pad so he could fuck me! Like I said after a while we began a low key relationship.
He would call me his hyna (his girl). Sex with him was always great. He liked experimenting new things as well as me.
He was also new to gay sex. We would watch gay porn to learn more.
But there was this one experience I'm going to tell you about where something unexpected happened. ;) So like usual my man Armando came over to my house .
I would cook something for both of us. After that we'd hang out in the living room and do what couples did.
We began to kiss. He would kiss my neck. I would kiss his neck while I would grab his dick. I'd rub it, stroking it through his dickies shorts. Getting it hard n ready for me to suck.
So I kissed his neck, rolled my tongue around it. I pulled his shirt off. I continued to kiss him, moving to his chest, to his pink nipples, rolling my tongue around it, exciting him more.
I bit it. I continued down his stomach to his pants, caressing his verga with my hands and mouth. I unbuttoned his pants, then I pulled the zipper with my teeth, feeling his verga poke me through his boxers!
I pulled down his boxers, revealing his hard verga, throbbing, needing me to suck it. I began to lick the tip of the head, tasting his precum. I slowly put his big head in my mouth, enjoying every inch of his dick.
I began to swirl my tongue in a circular motion, faster every time, making him moan like a man. Not wanting to ever stop. His hips began a rhythm. He began to insert his dick faster n faster in my mouth.
He grabbed my shaved head and began to fuck my mouth. Stretching my throat wider to the shape of his dick, making me gag on it, but um loving every inch. He then stopped, bringing my lips to his lips, kissing me passionately.
He kissed my neck. He sat me on the couch, removing my clothes. He began to kiss my chest then my stomach with his tongue. He continued down to my balls, lifting my legs up in the air. He began to eat my ass out, sticking his tongue in deeper n deeper.
His fingers began to poke my ass hole with his tongue too. He spit in his hand and rubbed it on my ass then on his dick. He stuck his head in my hole slowly at first. I was loving the feeling of him opening me up. I wanted him to make me his. He fucked me faster and harder, asking me if I loved it.
He spread my ass wider and wider, getting every inch of him inside me. He lifted me up while he was fucking me and took me to the dinner table.  I threw everything to the ground with my hands as he laid me down on it, hearing plates and pans breaking. I was feeling in heaven.
He continued to fuck me harder and harder. He then sat on the dinner chair. I straddled around him. I bounced on his dick, moving in rhythm with him. I bounced up harder n faster. He picked me up again and laid me on the table. He then pulled out and began to jack off on top of my face while I licked his balls.
We were both jacking off about to cum. I felt his balls tighten up, and a warm load shot at my face and stomach! Dinner is served! We headed to the shower n washed up to cuddle in bed!