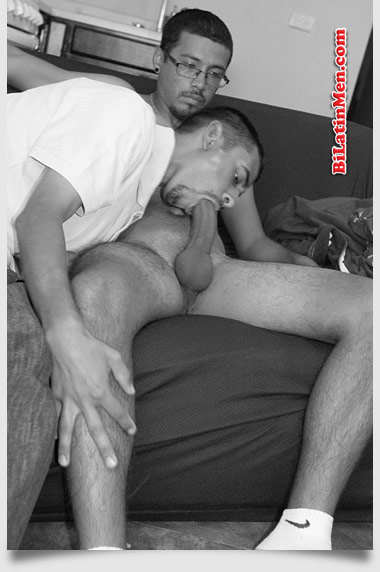 My name is Raul. So let me describe myself. I'm very light skin due to the fact that I have more Spanish blood than Mexican. I'm 5'6", very slim, dark hair and light blue eyes, so I'm like a mix of sexiness.

So my story begins in Spain when I'm living there with my family.
One day I decided to go to Mexico for vacation and see my aunts and uncles; so it was decided I would spend the summer in México.

Everything was fine and dandy until I reached Acapulco because that's where my half Mexican part comes from.
So I got there and my cousin Santiago picked me up at the airport. Now let me describe him. He is tall 6'9", built, dark skinned and with the usual black hair and dark brown eyes.
So since I haven't seen him since I was 9, now I'm 18.
I asked him to have a sign with my name, so he did, and when I saw him I was amazed at how he looked, like he was wearing basketball shorts that showed his built legs and a bulge in the middle and a tank top that gave too much to the imagination, and on his shoulder a tribal tattoo, and recently you could see he had shaved his hair.

So I tried to act cool and stuff and I gave him a hug and he pat me on my butt. By the way I have a big butt. It's very bubbly and soft.
So we started driving to my grandmother's house which was empty since she was in Spain and the only people there were the maids and sometimes family. So I got to have this Aztec god all to myself.

We got there and I told one of the service people to take me straight to my room, so they did. I followed and my room had this walk-in bathroom. So I at once started to unpack to look for something very soft since it was hot as hell. I dropped everything on the floor and I took my pants and slowly I took these tight boxers that I was wearing.

I set the temperature in the shower and the good thing was that I had a good view to the garden and the sea from where I stood. I took my time in the shower. I dried myself and I just went naked to the room.
All of the sudden I hear a voice, " Nice belly ring."

I looked up and it was my cousin Santiago. I blushed and tried to get something to cover my naked body. He stood up and looked at me and said, "Don't bother. We are family and it's hot in here."

So he started to take out his shirt then the shorts, and I saw he has some hair on his chest, then he took his boxers off. So I saw he had some thick hairs on his dick and nothing turns me on more than to see a man with some nice trim pubic hairs. His dick stood to be about 6 ½ thick and uncut.

He laid on my bed, saw my underwear and looked at me and said, "I could not see why you like to wear that shit. You can just be naked n call more attention from guys."

I'm like, "What you mean?"
He just said, "Look at that ass. I bet it's tight as hell. I just smiled and told him, "Why don't you come and find out?"
He just smiled and licked his lips and stood up and said, "Maybe I will."

He came to me, started kissing me and just grabbed my ass n started caressing it. By this point I was so turned on that I want him inside me. So he was like taking his time and stuff. We ended up in my bed, and he kissed my nipples and then slowly went down to my belly which I still had my belly piercing on. And then to my legs and he opened me and started to eat me out like no tomorrow. I started to moan in pleasure.

He did this thing where he would bite me softly and then lick and then push his tongue inside. And he did this for a good time and then he was like, "You ready, baby?"

I was like, "Yes papi, I'm ready."
He just looked at me with those eyes and said, Damn, I love that Spanish accent of yours." And he was like, "Ok, I don't know how they fuck in Spain, but I will give you a fucking you won't forget."

By now his dick was 9 ½ long and he put the head in slowly and leaned over to kiss me. In that moment he pusheed the entire dick inside me. I let out a whimper but my sounds were drowned by his mouth kissing mine. It hurt so much but he was taking his time, taking it out and then pushing it all in.

We were dancing to the same music, our bodies moving up and down, side to side. Kissing passionately, he picked me up and I wrapped my legs around his waist. He pinned me to the wall and started to suck on my neck while going full speed on my ass. He said, "Even though I've been fucking you for the longest, you're still tight as hell."

He then put me on all fours and started to slap my ass. The stinging sensation and him sliding his dick inside me made me feel that I was in heaven. After a few minutes of him fucking me in this position, I felt his dick starting to grow and pulsate and then I felt his cum filling my ass.

By this point, he was jacking me off and I came afterwards. He grabbed my cum and rubbed it all over my belly and he started to play with my piercing and then he said, "Welcome to Mexico cousin, hope you will have a lot of fun with me and some of my friends."

He kissed me and left. By this point my ass was on fire after getting fucked for so long by a big Mexican dick. I laid in bed for a while, then I went off to take a shower. Hope you liked my story if anything please emails me to