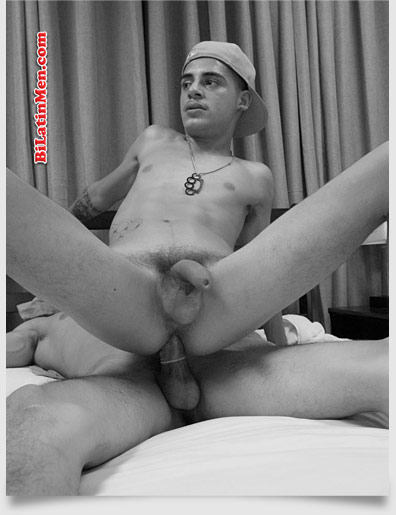 Hey what's up?!
So my name's Bryan. I'm 18, Mexican, 5'7", 140 lbs., a bit skinny, but with some muscle, and I am a current student at Cal State L.A. I wanna tell you all how it was being with a guy (or at least several guys).
It happened about last year, two or three weeks into school. So I was on Facebook and I started hitting it up with this guy. We talked for a while and we decided to meet up at school.
On the day we met up, he asked if I wanted to go somewhere private, so I offered my dorm. We went to my dorm and headed to my room.
He told me to close my door and I did. At first, we were watching videos on Youtube. Then, all of a sudden, we started making out. We kissed for about 3 mins (by then, I was already hard).
After that, we laid on the floor and we started dry humping each other. I could feel his hard verga (cock) against me, and it felt so fucking good! Then he pulled down my pants and started to stroke my uncut pito. It felt really good.!
He started licking my balls, making them wet. After that, I got on top of him and I started grinding on him. He started to moan, which REALLY started to turn me on!
His phone rang, which totally ruined the moment. He told me he had to leave. Although it was short, it was fucking awesome!
After my first encounter, I met another guy from school. He told me that he was a part of the organization I'm currently in. We started talking and we eventually started hanging out with one another.
So it was Halloween weekend and we went to West Hollywood. It was packed, and filled with a bunch of hot guys!! Before going, I pre-gamed it with the same guy, so I was a bit buzzed.
After we left WeHo, we got back to his apartment and I laid on his bed. He walked in and laid in bed next to me. Then, he leaned close to me and started to kiss me. I could feel his beard against me and it felt nice against my cheek.
After a while, we started taking our clothes off. By then, we were both naked in his bed and started making out more and he kissed my neck and bit me.
It sent my senses into over-drive!!! Then I did the same to him.
After that, I began to suck his verga. At first I started slow, then I went faster and faster. He started moaning, so I knew I was doing a fine ass job.
We then got into 69 for a good while. And he soon began to eat my culito out and then he started to finger me.
It hurt like a bitch!! After a while, he started jerking off and told me he was gonna cum.
So I placed my mouth over his dick, and he spilled his man juice all over my mouth.
It felt so good and sweet! Then I leaned over his mouth and kissed him gently. After I came, we cuddled next to each other and fell asleep. The next day we hit it off again and went for round two!
There's more, but I'll save that for another story! Hit me up at bg9311@yahoo.com