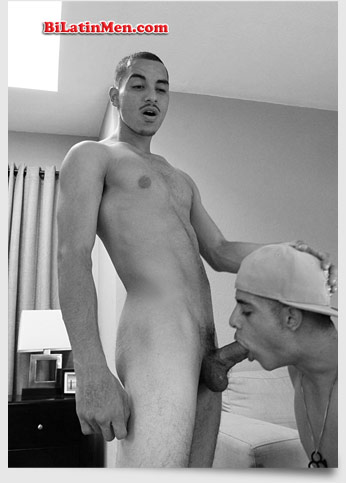 This is a time that I ran into an ex-boyfriend.
Let me start off by first describing him. He's 5'11", 160 lbs, brown/hazel eyes, fade cut, black hair and a body to die for. ;) Anyways his name is Oscar and we met actually when I was younger back in the day.
Well about a week ago I ran into Oscar at the supermarket, and he didn't recognize me at first. I walked up to him and was like, "Hey what's up? Long time, no see!"
He did like a double check when he finally realized it was me and he hugged me and asked me how I have been. I was getting all hot and heavy from just looking at him.
Anyways after the brief conversation I was going to walk away when he was like, "Wait let me give you my digits." He typed it in my phone and said, "Me hablas!" call me!
So I got his digits and walked away. As soon as I got to my car I dialed him. Damn he picked up and answered in his deep voice. I was melting and said, "I just wanted to make sure to gave me a right number."
Suddenly he said, "Hey so you want to meet up tonight? Probably get to catch up on things." I automatically said, "Yes!" being the slut that I am, I knew what he wanted.
Back at my place, I was putting everything away when I got a call from Oscar. He was outside my door with a bottle of coke and a bottle of jack. ;) This was just getting more interesting. I let him in. He sat down and we got to drinking.
Damn, he was fucking gorgeous. I was down to open up for him right then and there. :) So after a few drinks down, he was buzzing and asked me if I was seeing anyone and I said no. Then he asked me if I had sex recently. Again I said no. ;) He then mentioned he was horny and needed to get laid. I was on my knees as soon as those words came out.
I kissed him and slowly kissed him down his neck. I took off his shirt as he did the same thing to me. ;)
I kissed his chest and licked his nipples. I gently licked his stomach down to his bellybutton and I unbuttoned his jeans and off they went. He had a huge tent going on.
Damn my mouth was getting watery just looking at it. I then took off his boxers and exposed a huge 9 1/2 inch cock throbbing for head. ;) I slowly licked his head, made it make a popping noise as I sucked on it.
I glided my tongue down his dick to his balls. I sucked on them just right. Fucking delicious and they smelled like his cologne. I licked back up his dick to his head and stuck it in my mouth.
I swallowed that dick whole, bobbing my head up and down on it. Fuck it tasted good. After about a good ten minutes I got it nice and wet. ;) I wanted him to fuck me like the little bitch I am. Awww fuck, I wanted him in me, so I told him to fuck me good. Just like that he had me bent over my table, licking my sensitive hole getting it nice and wet too.
I was moaning like crazy. His warm wet tongue felt good. After a while I felt his hard dick just ram into me. I let out a loud moan. "Fuck me good boy!" I begged. Damn, he was pounding my ass good, making the table move.
He was fucking me good and I was loving his hot pito in me. He then grabbed me by my hair and said, "Is this how you want it, dirty bitch?"
I was moaning and said, "Awww fuck me baby, fuck me like the old days."
He then flipped me over on the table in missionary and I was spread eagle. Moaning and kissing him. I wanted to cum so I told him I was gonna cum and he fucked me even harder.
I came on my stomach and he licked it off. He then pulled out and said, "Fuck baby, I'm gonna cum! Suck it for me!"
So I then got off the table and got on my knees. I sucked it for a good 5 minutes and he came on my face, giving me a good tasting facial. It was hot.
That night he stayed over, best way to end a night of drinking with an ex. The next morning we had sex again but that will be my next story.
If you liked this story hit me up, I'm a single 20 year old hot sexy bottom and looking for someone. ;) hit me up at my email, peace.