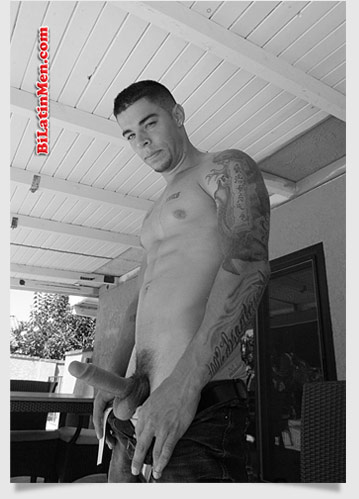 Well after reading all these other stories, I'll put one of mine out there. Well, I live on the city of Escondido, CA, not so far from San Diego! The name's Jesse & well I'm Mexican/Boriqua 5'10", light skinned, shaved head, medium built.
Well, I live in the hood where the homies kick it at all the time and where shit happens all the time. I grew up here. I never got involved with gangs. It's never been my thing. I just look like one!
Anyways to my story! I was sitting outside my pad one day, just checking the scenery out when a homie walked up and asked if I wanted to buy some of his products if u know what I mean. His name's Armando. He's 5'10", real cute, light skinned, green eyes, shaved head, n the thing I loved most of him are his wide shoulders. I love a man with a nice chest.
I was like, "Nah dawg, I'm good."
So he then took a seat next to me. He was wearing bball shorts with a big T and his long socks. I couldn't keep my eyes off his bulge. It looked big as he sat down. We talked and talked. He then asked me why I didn't represent the hood, in other words why I wasn't a gangster. It just wasn't my thing.
He was just like, "I see foo."
And then out of nowhere he surprised me by asking me, "Ur a faggot right? "
I didn't know what to answer, but before I could answer he told me, "Suck my verga."
I just stood up and told him to follow me into my pad. There was nobody home. So we went into my room. He walked behind me and slapped my nice big ass.
Once in my room, we laid on my bed. He began to kiss me and he sucked on my bottom lip. I began to feel his dick through his bball shorts. It was soft and felt big already. He was like 8" inches soft and 11" hard. I then took his shirt off and felt his nice toned stomach (he had been in jail for awhile so he worked out there).
I began to kiss his neck, then with my tongue worked my way down to his happy trail. I pulled off his bball shorts to reveal his 11" hard dick. I began to twirl my tongue on his head which was really wet. Then I took the head in slowly then his dick inch by inch admiring the beauty of it.
He began to thrust his hips back n forth. He then grabbed the back of my head, pushing more and more of his dick inside my mouth making me choke on it. I could feel it deep inside my throat.
He told me, "You like this verga? I knew you were a faggot."
I sucked his dick for like 30 minutes, then he asked me, "Do you want me to fuck the shit outta you fagget?"
I couldn't say NO. I wanted him inside me so bad. So he threw some spit on his dick and then some on his hand lubing up my ass. At the same time he stuck his fingers in me, making me moan, making me want it even more.
He then laid me on the bed, spread my legs apart and asked me if I was ready. He stuck the head in. I was already in pain, but I loved it. He then began to fuck me slowly nice and easy. I was in heaven. Then he began to kick up the pace, fucking me harder and harder. He had me moaning loud.
He then put me doggy style. He fucked me good. He grabbed me by the waist so he could fuck me harder. He grabbed my head up and kissed me while he fucked me. I was so wet while I jerked on my dick. He then laid down and had me ride him, facing the other way, not him (in reverse cowgirl position). He grabbed my legs up and fucked me hard and fast. I could feel my sweat and his sweat mix and touch.
He said he was gonna cum soon. So he laid me on my back and put me on the edge of the bed while he stood up. He fucked me there for about 10 more minutes. He was going to cum and so was I.
I jerked off while he fucked me. I felt his dick get harder. As soon as I felt his warm juice fill my hole, I came too, squirting it all over my stomach. He laid on top of me with his dick still in me and he kissed me.
We laid on my bed spooning. He was tired, so we fell asleep. We lost track of time. I woke around 1 am to something hard poking my ass. He lifted my leg up in the spooning position and started to slide his head in, and round 2 began! But I'll tell you about that next time.
After this, we fucked around almost daily until we began a relationship on the down low of course cuz he didn't want the homies to know!
After being together 2 years, he got locked up. He would write to me but then we kinda stopped and I really didn't hear about him. Last thing I heard was he was transferred to another state. So I moved on, and well it ain't no fun if the homies can't get none. But those are stories for next time.