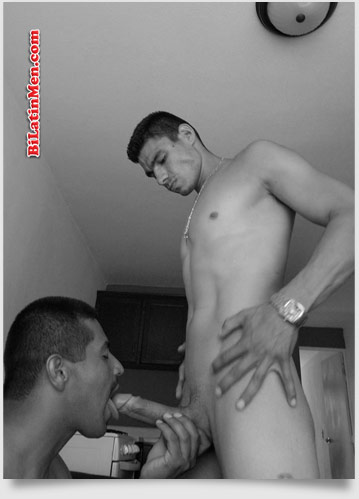 Let me start off by saying I'm a tall, blue eyed, white boy with long legs and a pretty little ass like a girl's and I LOVE DARK, UNCUT, HAIRY LATIN COCKS AND CUM!!!!!
I have noticed all my life that Latino cocks have always liked me.
I say that because everywhere I go, Latino guys like to pull out their HARD LATIN COCKS and show them to me. In grocery stores, in public restrooms, at the park, at themovies, you name it, everywhere.
Anyways, there was this one time I got up early and went to the donut shop by my house to get some coffee. There was a Mexican restaurant next to the donut shop, and as I was walking up I noticed one of the employees watching me walk towards him. He was massaging his very noticeable boner in his pants.
When I finally got up to the back door of the restaurant, he was standing just inside the door with his rock hard Latino Cock out.
I couldn't help myself because his cock was soooo HOT. I just walked up to him and dropped to my knees and started licking and kissing his beautiful Cock.
I sucked on his tasty dick for about 5 minutes, and he kept trying to pull his cock out of my mouth to cum, but I wanted to eat his yummy cum.
Finally he came, filling my entire mouth full 2 times. He seemed so surprised that I ate his cum.
He then asked me if I liked his cock, and I said yes. So he took me into the storage room and told me to get naked (we were the only ones there). By the time I got naked, his cock was nice and hard again. I let him pound my white hole for about 15 minutes until he pulled his cock out and made me jerk his second load of cum into my mouth, and I ate it.
He told me to come back in a couple hours, and he would give me a free "Special" taco. So when I came back, he gave me a taco and told me to go in front of the restaurant so he could watch me eat it through a window that was in front of the restaurant by an outdoor eating area.
I was wondering why he and about 5 of the other kitchen staff (all Latino) were smiling at me while I was eating the taco. It turns out that he and the other 5 Latino guys all took turns jerking off onto the taco before he gave it to me.
Needless to say, I was going and getting about 3 or 4 "Special" tacos a week for about a year. I have since moved to Arizona and would love to have some "Special" tacos here.
If there are any Latinos in Kingman, let me know. I would love for any Latinos that like whiteboys to send me a picture of your Hard Latino Cocks, PLEASE!!!