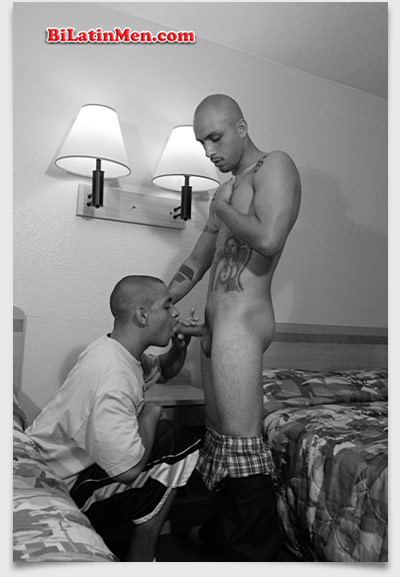 Ok, well I'm back b'cuz I got SO MANY request for another story. I'm tha 1 that wrote "my homie joel". Well here I go :)
Well, I was asleep at the time when my ex texted me, asking if I still wanted him to come over. I was half asleep so I said sure.
Well, he came, knocking at my window & I was just wearing a shirt & my boxers. He came in & I sat down on the edge of my bed. He was doing something & then he walked up to me, laid me down, & kissed me. We started making out & he whispered in my ear, "Take your clothes off." So I did.
So I was naked, sitting on the edge again & he did the same thing. He laid me down & started kissing me; this time I could feel his dick on my leg. As we were making out, he got in between my legs & lifted them up, still kissin me. My dick started getting hard so he grabbed it & started stroking it slowly. That shit was driving me crazy b'cuz that nikka knew how to kiss. ;)
He spit on his dick & rubbed my asshole with his finger then with his dick. He started sliding it in slowly & he bent back down to kiss me. I was moaning like crazy b'cuz that's my favorite position. He started fucking me faster & kissing my neck and biting my ear a little. My dick was rock hard with a lot of pre-cum leaking out from the tip of my dick.
He pulled out his big hairy pito & laid me on my stomach & slid it back in in that position. He started pounding my ass, asking me if I wanted him to nut. My culo was all stretched out, lubricated and ready to get pounded like a bitch.
I told him to nut inside me. We stayed in that position for about 15 minutes b'cuz then he told me to get into the doggy position & I did. I could feel his balls slapping on my ass.
We fucked like that for about 20 mins more & then he nutted inside me. He left it in me & pulled me up to kiss me. After that he gave me 1 last kiss & left. We still talk.