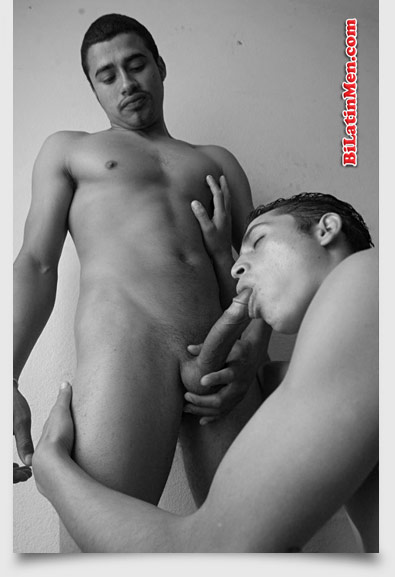 This is the story of me, and what I got in return for helping a buddy out.
Well, one night my neighbor Bravo got kicked out of home for many things that were not legal. So he came by my house to talk and chill.
So he said that he was gonna walk da streets all night cuz he didn't have a place to go. So I told him that he could stay with me, but he had to sleep in my room.
Only problem was that my bed is only a twin just enough space for me. He said that's cool and that he could sleep on the floor.
So he came in and laid on my bed. He watched TV and then said he was gonna go to sleep. Surprisingly he laid in the bed with me instead of laying on the floor.
So I laid right next to him, but we were all tight and almost on top of each other. As we talked, I put my hand between me and his dick, so that I started touching his dick.
He started getting hard. He said, "Sorry about that," and giggled kinda nervous, emberassed that he got a hard on.
I said, "Ay Bravo, don't trip or worry about anything."
He said, "OK."
So he got super hard, and I felt his dick.
I asked him if he wanted head, he said yea. I sucked it for a while and he kept moaning. He then took his pants and boxers off.
I sucked him more and he asked me if he could fuck my ass. I said, "Do you want to?"
He said, "Yea."
So I got on top of him and rode his cock bareback. He bounced me fast and worked that dick really good. My culo was all wet with his precum, and that thick pito stretched my culo out. We switched positions, and he fucked me doggy style.
His balls were slapping against my ass. He said, "I'm gonna cum," and kissed my neck. He fucked me fast and hard,  and I felt him cum all in me.
After that, we both went to bed.
And after that day we hooked up a few more times. Now, he's living in a different city. He got locked up, and I heard he's gonna be a dad soon.
That's my story.