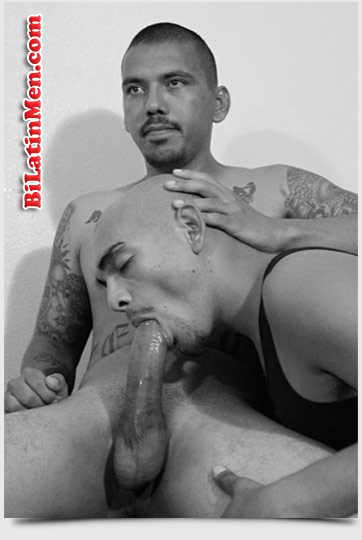 This happened earlier this month. Him and his family came from Florida on a little vacation. Let me describe my cousin Rolando: he is 23. He's about 5'11" and has a 2 year old child.
Well, I have always had a crush on him, and they threw a family party and I was looking forward to spending time with him. I got there and he was looking sexier than ever. I was gonna spend the night there, and I was gonna sleep in his bed.
Night came. We were watching a movie, just laying down. I thought he was straight, and I didn't care if he was my cousin. I wanted his big pito in me. I have peeked at him while he has showered.
Well anyways, the movie ended and he was talking about how him and his baby momma broke up, and I was just thinking to myself, I wanna fuck him!
So he kept talking, and I shut him up with a kiss. He pushed me off and was like, "What the fuck homie, I ain't gay!"
And I'm like, "Sorry I was just tempted."
So we went to bed, and he started jacking me off. I looked at him and he said, "I never said I didn't like guys though."
I turned him around and started sucking him off. His big 9.5 thick uncut dick was so delicious. I have never had a dick so tasteful like his! We ended up doing 69 and he ate my ass out. He said, "Let me fuck your tight pussy hole. Tu eres mi puto."(you're my faggot).
Well, anyways I had only got fucked by my ex boyfriend but his dick was smaller around 7.5 inches, that wasn't anything compared to this big dick. He was fukin me hard and I kept sayin, "Fuck me papi."

That made him go faster every time I would say it. He came in me and then it was my turn. I fucked him like there was no tomorrow. OMG his moaning turned me on even more. I couldn't take it. I had too cum. He said he wanted it in his mouth. We kissed after that and felt up on each other.
We then realized we didn't sleep all night, and it was 8 in the morning already. Ugh! I was in so much pain all day but it was worth it...
It was the day he had to leave to florida again. We fucked once more, and he has decided he is gonna come every summer. He is going to pay for my plane ticket to go over there during winter break :)
till next time bye