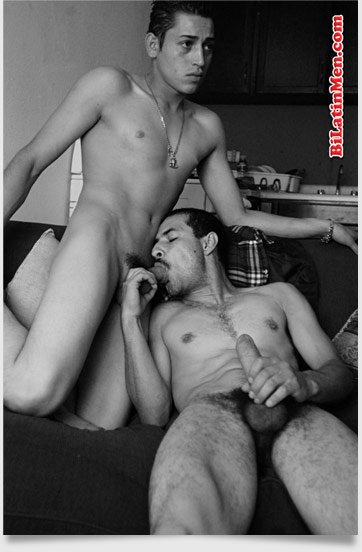 Hello guys, I'm the guy who wrote "Pure lust" about me sleeping with my
best friend.
Well, I decided to write another story. This is about me & my boyfriend Daniel. Lemme describe him to yall. He is Italian & Puerto Rican. Light skinned, bright green eyes, ears pierced & has snake bites. He also has a tattoo on his chest that says "Only god can judge me." He is 6 ft 1 in, weighs about 176. He has a nice six pack with the barbie lines. Ok, well we are both 18. But in the relationship I'm the bottom :) Well his parents recently found out he is Bi. They weren't too happy about it, so they told him he had to stop talking to me or move back to Italy.
We started going out on Valentine's Dayt & his parents found out 2 months exactly later. So since April we have kept"us" a secret from his parents. Until the night his parents found out. So what happened before they found out was like this.
It was 6:00pm & I was at his house while we thought his parents were outta town. We were on his couch, watchin tv. I was in his arms while he held me tight to where I could hear his heartbeat. I put my hand up his shirt to feel his chest. His chest felt so warm. He smiled & kissed my forehead. I hugged him & told him, "Te amo mucho mi amor. Con todo mi corazon." (I love you a lot my love. With all my heart).
He held me tighter & whispered, "Tu eres mi vida y mi mundo" (You are my life & my world). We had been together for 3 months & didn't sleep with each other.
But that night I couldn't resist. We didn't have sex early because I
didn't wanna ruin our relationship with sex. But I gave in. He touched my thigh & kissed my neck. Not a normal kiss though, a kiss that gave me tingles down my back. I decided to sit on his lap & dry hump him while making out. He was wearing basketball shorts so when he was ready I would know. We made out for 30 minutes with me on top of him & his hands on my ass with me dry humping him.
I started moving on him faster til I started to feel his vergota poke my ass. He got excited because he wanted to smash me for the longest. So we decided to walk to his room & finally let him have his way. He laid me on my back on his bed while he took off his shirt. I got harder when he took his shirt off. He got on top of me & said "Babe, I love you. I don't want you to do something you're not ready for."
My response was me kissing him & sliding his basketball shorts off. He took off my shirt & kissed my neck all the way down to my happy trail line. He unbuttoned my pants & started to take out my dick. (I'm about 7 1/2 inches not hard & 9 inches hard.) He pulled it out & started licking the tip. Around the tip & going up & down. He massaged my nuts while I moaned in pleasure. He doesn't like to give head so he just made me wet.
We switched positions while I went down on him. Now his dick is B I G, about 9 1/2 inches not hard & 11 hard. And fat. I licked the tip & started going up & down until I got back to the top. He told me to suck him all the way. So I did what he said. I put it in my mouth & swallowed his big sausage. I started choking on it which gave him pleasure. He kept moaning & moving his hips in a circular motion which made him crazy. So he put his hands on my neck & made me swallow more. I had about 2 inches left. Until I told him, "Babe, I want it in me," which is what he was waiting for. So he told me to make it more wet.
After 10 more minutes of me making his fat dick wetter, it was about time we finally fucked. But he called it "Making love."
He laid me on my back & told me "Babe, it might hurt but just know that I love you."
So I held his wrist while he slowly poked my tight man pussy. He seemed frustrated because he couldn't get it in until he finally put the head in. Ooh lord, did it hurt. He saw my body tense up & he just kissed me with his dick head in me. While kissing me, he inserted it more in me. It hurt so much but I loved it. I kept biting his lip while he put it more in me. He pushed harder & harder until it was all the way in. He seemed tired from just that, but he said its wasn't over yet.
He started moving his hips. Slowly at first, but after 20 minutes the pace started getting faster. I kept inhaling air while he kept exhaling it. It hurt & he could tell but he didn't care. He knew that we BOTH wanted it. So we kept going. After I could tell he got more tired & that I was more comfortable with it in me I pushed him off & started to ride him. His dick was in me while I kept jumping on it. I would tighten my hole which made him excited. He started rocking my hips until I turned my body around.
Then he bent me over & started doggy style fucking me. OMG, did it feel great!! I started jacking off while he held my hips & kept fucking me like no tomorrow. I would scream his name so loud that made him go faster. He was going so fast until he said, "Baby I can feel it coming."
So he turned me back on my back & put it in while I started jacking off. I could feel mine coming too so I just started jacking off faster. With my legs wrapped around his waist, he kept fucking me until I could feel him slowing down & then he said, "Babe Ima cum."
I told him "Gimme your cum in me" which he did. He nutted in me about 4 loads & fell on top of me. He started kissing on my neck & said, "Babe, that was AMAZING."
I was tired & couldn't believe we finally did it. We laid in bed for about 2 hours, making out & jacking off each other until his parents came home early. His parents caught us & banded me from their house & decided to send him away for one year. Only one year though. Our first time was our last time. I miss him but I had to move on.
So if there are any guys that wanna talk hit me up on my email. Miguelchapoy94@yahoo.com
I AM A BOTTOM LOOKING FOR A TOP.
Thanks for reading.