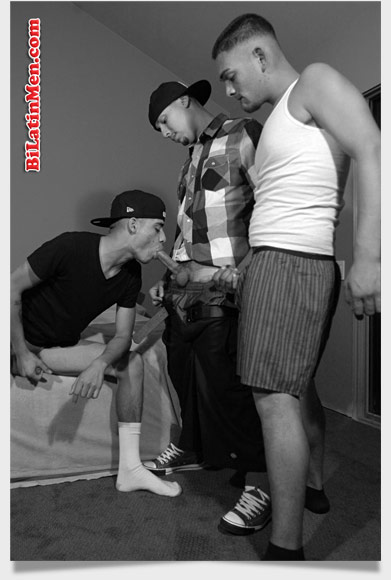 I'm a marine. I live in a squadbay, a big room full of bunk beds n there's like 50 marines in there.
Well, I went ahead and came out to everyone, and then I started hitting on this one supper cute marine hardcore. He's a light skinned Latino 5'5", 28-30 inch waist, nice little bubble, but I still remember the first time I grabbed it. It's muscular with a little jiggle to it. I almost bit the fuck outta it.
Well, I kept hitting on him and offered to suck his dick, and he would always tell me No. But I keep insisting and flirting with him and playing with him, and after many days he finally said Yeah, so I jumped with excitement lmao.
Well, since we had no privacy in the squadbay, one day when we found time off, we broke into another squadbay and I laid him down on the bed and he took out his dick. It wasn't huge but it was like 8 uncut and real bushy. He had some nice balls and the dick was so smooth n tasted wonderful lol
The dick tasted so good and hard, I wanted to sleep with it in my mouth. The head felt so hard and smooth on my tongue. I squeezed his dick hard with my hand while I sucked him and moaned like a whore. I sucked it till he came while I grabbed his ass.
Well, eventually after I put a lot of time into turning him I got him, to suck my dick and for a rookie it was nice. He has a small mouth but juicy lips. He's really cute and he can open that mouth pretty wide lol. I stuck my 8 inch uncut dick all the way down his throat and made him gag while I grabbed and fingered his juicy ass.
Then I turned him around and threw his hands on the wall. And I stuck my dick in his ass. I had to put my hand over his mouth cuz he was moaning kinda loud. I came on the small of his back, and I left the shower while he finished up. That was the last time we messed around. He went back to pretending he's straight lol.