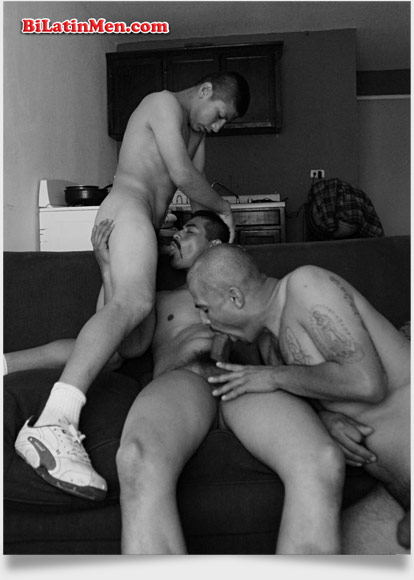 So this happened when I Just Turned 18. I'm a light complected hispanic/italian. About 165 lbs. I"m 5'10" with beautiful green eyes.
I had this best friend Jose. He was 178 lbs., about 6'2" and beautiful hazel eyes. We're from Houston Texas.
Well, one day after work, I called him and asked for him to come over. About 15 minutes later, he appeared at my doorstep. He came in and went into my room. I asked him, What's wrong? And he was like, My body hurts.
So I told him if he wanted a massage. He was cool with it and knew I was bisexual. So he laid on my bed on his back, and I was sittin on his dick area (he was wearin basketball shorts). He took off his shirt and I fell in complete lust when I saw his 6 pack.
Ahh, so anyways, I started massagin him and I started massagin his nipples which became really hard. He made these moaning noises that had me in a daze. I started rubbin his body lower and lower for a good 10 minutes. I decided to scoot up when I felt a very thick long dick poke me. I looked at him and laughed and said, Are you hard? He was like, Shut up. I got hard off my nipples ha ha.
Well, I knew this would be my only chance, so I started massagin him more until I got under his shorts. When my hand touched his 9 inch really fat dick, I was shocked to see him licking his lips with his eyes closed. So I pulled it out and started kissing it.
He told me if I liked what I was tasting. So I replied by going down on his dick. He started moving his hips and grabbed my head and started face fucking me. Ahh, I couldn't believe it was happening. But I didn't want it to stop.
After a good 30 minutes of sucking his dick, he said, "Babe, do u want to ride mi pito?" (dick)
I was a virgin at the time so I was nervous, so I decide to just go for it. He laid me on my back and kissed me and told me it might hurt but that I will love it.
He spit on it and tried to stick the head in. My asshole grasped the head of his dick. I could feel it entering me slowly, but I didn't want it to stop. I wanted it even if I was gettin sore. Inch by inch, I felt him in me and after it was fully in I yelled out a cry that made him grab my body and start fuckin me slowly.
After 20 minutes of fucking me slowly, he got faster and faster. I felt as if his dick was touchin my stomach. But I didn't care. He was mine, all mine. He picked me up and started fuckin me in the air and kept sayin, Ride this dick. You know you like it u fagg, which made me more horny.
That pre cum was all on my dick. Ahh, after about an hour he finally said, Ima cumm, which he did all in me.  After that we made out and did a 69.
I hope u enjoyed. If u want to contact me message me at miguelchapoy94@yahoo.com