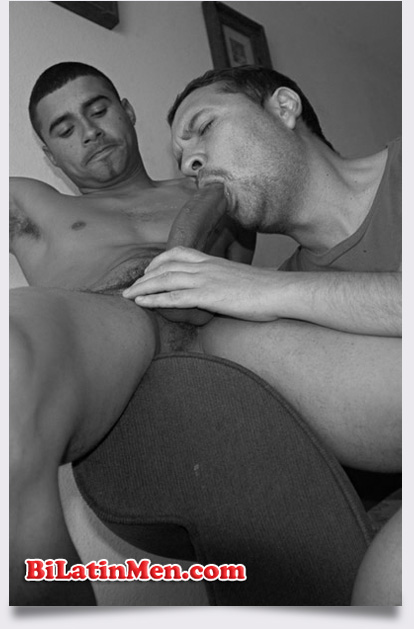 Hey what's good? My name is Mark and I currently live in the Los Angeles area. 
So let me tell you about my latest encounter. I recently went to visit a friend of mine in Mexicali/Mexico. He lives in the ghetto side but I stayed with him at his house. He had asked me if I wanted to go to the club with him so I got cute and put on my skinny jeans, my white vans, my white v. neck see through shirt, a loosened tie to go with it, and my vest.
My hair was put up with bangs and a Mohawk towards the back. I looked really cute that night. I noticed that he couldn't keep his eyes off of me, so he asked me to dance with him and we did. He got really drunk so I called a cab and took him home.
I was going to come back to L.A. that night, but he told me to stay with him, so I did. I helped him to the restroom and waited for him in his living room and sat on the couch. When he came out of the restroom he just had a pair of basketball shorts and no shirt, he sat right next to me and asked me if I wanted to see porn and I said sure. He put on straight porn but I didn't get horny off of it.
What he did next surprised the shit out of me. He stood in front of me and asked me to massage him on his back, so I did. Then I got a hard on real fast and he felt it by accident. He laughed and said, I guess you like what you're doing to me. Then he said, You wanna do more than that? Follow me to the room and see what else we can do. So I did.
He jumped on the bed and took off what he had on and started playing with his soft dick. It was really small when it was soft, but when it got hard, it grew to 8 inches uncut. I just put my mouth on it and started sucking on it like there was no tomorrow. He liked what I was doing to him, so he grabbed me by the back of the head and forced his dick to the back of my throat.
I loved the feeling of his big fat verga down my throat. He commanded me to bend over in the doggy style position so he can eat me out. He stuck his tongue inside of my tight little culito and worked it really good. He then stuck his dick in me and fucked the hell out of.
He told me he was about to cum, so I got on my knees and sucked his dick till he busted in my mouth. Damn he shot 6 shots of his warm leche in my mouth. It was so good the next morning we woke up next to each other and did all over again. He got sad when I had to leave but I will see him again this weekend. lol
Feel free to add me on Facebook. M.Guzman17@yahoo.com is my E-Mial for Facebook.
Peace, M.Guzman