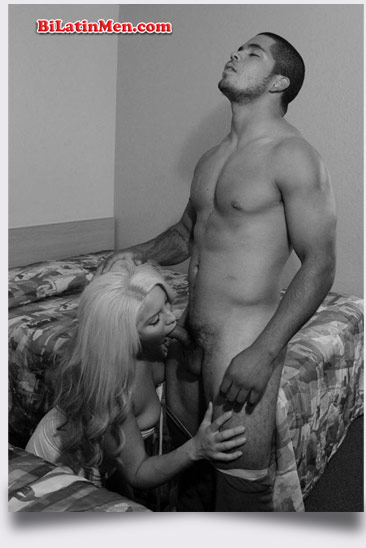 Well, here's my story. Da name be Jesse, 22, Mexican/Colombian, 5'10", 170 lbs., Pelon, Good looking homie here.
Anyways, I am a cashier for thiz restaurant in da SFV area, and I always see some fine azz homies going in and out da restaurant. Wish I could tell them, but am in the DL, but that's not case, this is the case LOL
There's this fine homie that I have as a coworker, but he works in the back. He's a cooker. Everyone calls him "Chente." He's Tico, Costa Rican, 28, 5'11" around 160 lbs., pelon nice body.
Well, him and I get along really good, but one thing, he likes to joke a lot with me. Every time he sees me he gives me this smile that fuckkkk gets me all hard and shyt LOL. No one knows I am gay at my job, and well I try to keep it ion the DL cuz in those type of places they are hella chismosos (gossips).
But like I was saying Chente likes to joke a lot with me every time he sees me, he tells me this, "Vas a querer?" (are you going to want some?) and this too "Tengo bien mucha leche para ti" (I have a lot of milk for you).
Every time he would tell me, this I would reply saying, "No wey, estas loco" (naw foo ur krazy), but in my mind I would be like, Fuck yeah papi anytime any day LOL
So a few weeks went by and he would keep telling me the same shyt every time he would see me, so I was like fuck it!!!! Next time I'ma be like, Yeah I do want some, to see if he's really down and not just fucking around with me lolz
So the next day came by and there he was "Chente." He gave me a big O smile and told me "Vas a querer?" so I replied, "Si. Cuando me la das?"(Yes! When are you gonna give it to me?)
He looked at me and said, "Hoy en la noche" (today at night).
I smiled, got a piece of paper, wrote my cell number down and told him, If ur really down give me a call like 11insh!
That night I got out at 8 pm from work, and he stayed to close the restaurant so he would be getting out around 10:30 pm. I got home, and to be honest with you I totally forgot about him. I really didn't think he was going to call me. I always had in mind that he was just fucking around with me, cuz he's hella straight, u digg, but to my surprise I was wrong.
It was around 10:40 and my cell started ringing. It was a block caller so I answered and they were like, "Jesse Jesse, is me vicente 'chente'"
So I replied saying, "What's up man?"
He was like, "I barely got out of work, so give me ur address. I'ma give u a little visit."
So I did, 15 minutes later he got to my house. I was so fucken nervous. I just smiled at him and said, "What's up? come in!"
So he did. I asked him if he wanted something to drink, and he was like, U have beers, so gave him a beer. We went to the living room and started watching tv, and all of a sudden he was like, "Can I ask you a question?"
I was like yeah, and there was the question: "Vas a quere o que pedo?" (are you going to want some or what?).
So I replied by saying, "Hellz yeah."
So Chente told me, "Come and see what's waiting for you."
And I did. I unzipped his pants and took that shyt out. Damn, he had this nice cock about 7 inches soft, so I got on my knees and started licking/sucking his soft cock till I woke it up to the fullest. Damn, an uncut 9 inch cock and tasty as fuck.
So there I was, giving him head, deep throating that shyt. He was moaning crazy status, telling me, "Yeah suck that pinga. Toda! Cometela puto!" (All of it! Eat it, faggot!)
Damn, it was so damn tasty, that damn! So he told me, "Let me eat ur culito out."
So I did. He took my shorts off and then my boxers, and there he was playing with my culito, making me going krazy like serio status. He was eating my shyt out like krazy and I was loving it. He was like, "Yeah I'ma fuck u hard like no other foo has ever fuck you."
So he was like, Are you ready, and yes I was. So he was like, "How do u want it baby?"
"However u want papa," I replied, so he was like, "Get doggie style."
So I did. he was like, "Here it comes baby," and I replied, "Bring it on pa."
Here he was feeding his cock to my tight culito, slow at first. Once all his 9 inches where inside me, he started going faster and faster. damn I was in heaven. It felt so damn good. I was like "yeah papi haci cojeme damela toda" (yeah papi like that, fuck me, give it all to me pa)
He fucked me in all positions possible, and to be honest all of them felt so damn bomb. So yeah after 45 min of fucking, he was doing me doggie style, when he was like, "Here comes my leche"(here comes my milk).
I told him to nutt in my face. He agreed. He was like, "U ready baby?"
He nutted a big O load of tasty cum in my face. It smelled bomb and tasty bomb, no BS.
So we finished. We cleaned up and everything, and he was like, "Nothing ever happened Jesse."
He gave me a goodbye kiss and left my place. 10 min laters he gave me a call and told me that he loved it and it was a bomb experience and that he hope to see me again "besides work he said lol"
Four days later he saw me at work and was like, "Quieres mas?" (you want some more?)
I smiled and said, "Whenevers papi. Call me tonight!"
If you want to know what happened that night email me, or keep posted on BiLatinMen.com for the continuation. Thanks! to be continued......