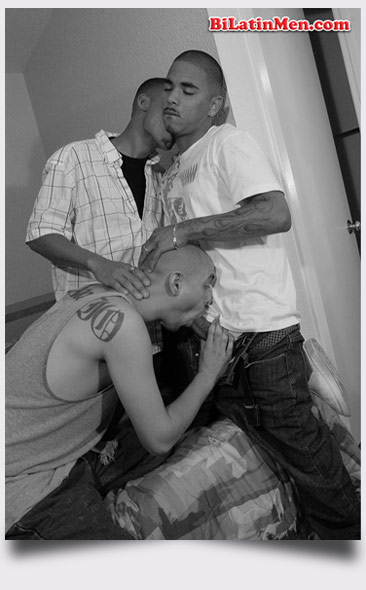 I used to manage a rather popular Denny's. There was this cook Alex who was a cop back in his country, so he still had a great body. I had never really noticed how sexy he was until he came into my office one day.
There he stood, big masculine hands, nice arms, and pecks. Hmmm. He looked hot. Did I forget to mention the bulge? Wow!
I guess he noticed me staring at his crotch. He asked me for something. So he followed me to the storage. As I opened the storage, he followed me in and grabbed me ass. I was like, "What the hell are you doing?"

"Oh, I'm not gay," he said, "but you have such a nice ass.
I am out to everyone @ work. So later that evening the restaurant was dead, and he claimed to need something else from the storage. I proceeded to hand him the keys.
He replied, "No, I need your help."
I said OK, not thinking about what happened earlier.
I opened the door. He pushed me in, locked it and pulled down his pants. Wow! A big thick uncut cock came out. I was like, Damn!
He said, "I want to fuck that phat ass of yours."
I said, "NO! We don't have enough time. But I can blow you."
So, I did. I went down on him, slowly taking that uncut thickness in my mouth. He got all excited and started face fucking me. He was really going at it when without warning blew his hot load in my mouth.
It was like hot volcanic lava pouring. It spewed out from my mouth. He made me drink it all. I got up. He kissed my neck. Then we went back to work.
I later had to fire him because of his poor attendance. Damn, I wish we had fucked.