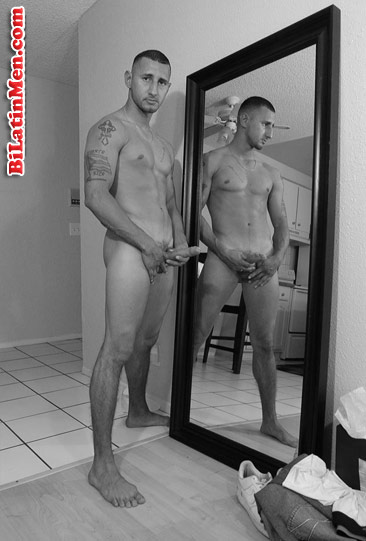 Well, my name is Doni, and I am a female impersonator in Las Vegas, NV. I impersonate Mariah Carey and Kim Kardashian.
Anyway, as I was hosting at a club called Piranha, I met this hot vato, cholo type looking at me from across the room, smiling. I thought I was daydreaming from all the rum and cokes that guys were buying me. So I ignored it for a moment and started greeting people and moving my BIG booty and firme legs around the club in a mini dress with 6" heels.
I was Kim K. that night so people were talking to me. Anywho, as I got closer to the guy that was staring at me, he walked up to me and introduced himself, "Hey I'm Carlos!"
Now, I have a sexy female voice and said "Nice to meet you, I'm Doni!"
He was like, "I ain't gonna lie, you're a firme hyna."
I smiled and said, "Thanks."
Well, he bought me a drink, then we talked. He asked if I lived alone. I said, Of course. He had just moved to vegas and this was his first everything, being at a gay club, interested in a gay impersonator, etc.
At the end of the night, he was like, "Man, mami I'm feeling you."
So couple days later, he came over. We hung out, he got closer to me and started feeling my ass, saying how big and perfect it was. I started to flirt and got hot. He smiled at me with this sexy smirk and put my hand on his dick. I felt it hard...
He told me to suck it, so I went down and licked the head, swirling the tip slowly, than deep throating it. He started groaning, saying, "Yeah baby, suck daddy's dick."
After about 20 mins, he couldn't take no more.He took off my skinny jeans and thong, and bent me over the couch and started eating me out from behind. He was flicking his tongue up and down, around, making me moan loud and say "ay papi, lick my leche."
He started stroking his dick...
Then after he put on a condom, lubed his 9 1/2 inch pitote and slowly pushed it in, til I swallowed all of it with my culo. He pumped fast, then hard for about an hour.
As he was pumping and about to bust, he pulled my hips back and screamed, "Ay van mis mecos, mami. Daaaaamn your so tight and good." (Here comes my sperm.)
Then he hugged me from the back. And after that, we hang out all the time and he just became my security. ;). (I'm Doni, 21, female impersonator, vegas.
Email me sexy cholos. Santiagoboo_Santiagoboo@yahoo.com I love cholo papis.