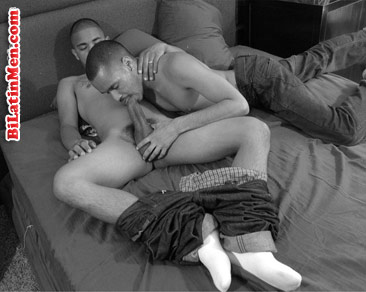 Hey guys , it's me again. I wrote My Nightly Surprise. Well this happened a couple of days ago...
My friend Tommy and I were just chilling at his house. It was around 2 maybe 3 pm...LOL. Well, let me describe him, he's 6'1", short brown hair, blue greenish colored eyes, dresses kind of casual with baggy pants and a muscle shirt.
Well anyways back to my story, we were in his room, and I was on my messenger, just chatting with some guys when out of nowhere some guy sent a cam request. So I accepted, and let me fill you in my friend isn't gay. He was just watching and seeing what I was doing. Well anyways, the guy came onto the screen and was completely naked.
The guy said he had an 8 inch dick waiting to explode. Tommy got a lil uncomfortable but still sat next to me. The guy, if I'm not mistaken his name is Justin, asked if we were a couple, so I told Tommy let's just fake that we are. He didn't say no but more of a go for it.
Well Justin asked if we could kiss and Tommy looking nervous as hell went for it...damn his lips were so fucking smooth and juicy...damn I got a fucking hard on...LOL Justin started jacking himself off. Damn, his dick looked good.
Justin then typed for us to get naked and touch each other. I, of course, got naked and wanted to see what Tommy was hiding in them pants. Tommy, on the other hand, only took off his shirt. So then Justin asked if Tommy could suck my dick...and Tommy said no but that he wouldn't mind getting head...damn I was going crazy...
I unzipped his pants and exposed a half hard cock. It was about 5 inches but when I started to suck that dick damn, it grew to 9 inches in my mouth and about 2 inches thick, it was delicious.
So I got into Tommy's dick and Justin was jacking off onscreen. I could not believe I was sucking off my str8 friend on webcam. So after a good 15 minutes of sucking that dick, Tommy was about to cum and shot 5 warm shots of his manhood down my throat and Justin came on his computer...
Ever since that day Tommy asks me for head whenever he wants...LOL