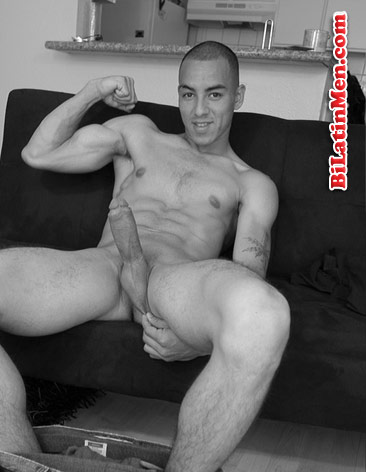 I went into the locker room, and the vato was already changing into his clothes. He had slipped on his classic white briefs and my mouth watered just like Homer Simpson "Mexican…" one of my fetishes. I followed him out as soon I got dressed. I was lost in a sea of hombres and the one I wanted was not to be found. Tijuana can be hot, but I was hotter!
I went to the local gay bars to see if he might of decided to continue drinking. I checked out three places and I didn't find him. He must have been straight and had gone home to his wife and the broom that was surely waiting for him.
I had ordered beer at the other two bars and one more wasn't going to hurt me. The waiter who sat me returned with my beer and asked if I was just next door. I said yes and thought back, yes I did see this guy pop in and pop right out.
My waiter was attentive and kept my beers coming. I don't drink much especially when I'm alone. He made small talk and I had mentioned I was needing someone to re-roof my house. He said he had done roofing when he had lived state side. It was nearly eight and I decided it was time to go.
"You're leaving, don (sir)?" He asked  in Spanish as I stood up and thanked him. "I want to go home with you!" He exclaimed while I said "what?" He repeated himself and told me to wait at the corner while he finished up.
He caught up with me at the corner. Meanwhile I was wondering what's his angle. I'll call him Loco. He was 24. About 5 ft 2 inches. Slim easily 110 lbs. Short black hair with a trim goatee and stash. Light skin and smokes. Straight looking and acting. He talked about his girlfriends.
I took him home and he checked out my roof. I offered him a beer and we sat down in my living room. He asked if I had any porn and told him I had a bi one. Right away he took control of the remote and was fast forwarding and rewinding while groping his crotch. I was horny just watching him. I undid my chinos and played with my dick.
"Loco, go ahead, whip it out and jack off!" I said to him eagerly.
He took it out. His dick was hard about six, uncut and light brown with a pink head. "You want it don?" He asked as if we've done it before. 
I got on my knees before him and took his verga all the way down to his pubes which were short and trimmed. He moaned as I got comfortable going down on his dick for the next hour. I licked his balls and pulled his jeans and boxers to his ankles. I chewed on his foreskin and then sucked his cock head hard while I fingered his man hole. He began to fuck my face and he yelled I'm cumming. I sucked harder and my finger went deeper as he shot his leche into my thirsty mouth.
Loco sighed and smiled at me. I tried to lick his dick dry, but he began to slide his jeans and boxers up as he made his way to the bathroom.  I wanted to catch a glimpse of his skinny ass but his t-shirt blocked my view. He had washed his dick and told me he had to go.
I asked him, this wasn't his first time with a vato. He sheepishly replied no, only a couple of times receiving head. Then finally came his true intentions and he asked me a favor.
"Don, I'm going to do your roof. I owe some money that I need to pay tonight. Can you lend me 800 pesos? (a little less than 80 USD ) You can always deduct it from what you will owe me." "Lo sabia! I knew it! I said.
"No don, you can trust me. You know where I work. I be back tomorrow," he said.
I looked at him and I just thought I was a hustled fool.
I smiled and I reached into my wallet and pulled out 850 pesos. "Here and there's for your taxi."
He took it and gave me a hug. I said, "No, that's not going to do it. I want a kiss." He gave me a kiss on the cheek.
"You call that a kiss. This is a kiss like a real macho!" I told him as I took him by the shoulders and kissed him on the lips hard and then softly savoring his now moist manly lips.
He exclaimed, "Don, I'ved never kissed a vato before."
"How was it?" I asked.
"Alright, but I'm not going to start kissing vatos!" he aid.
I took him down where he could catch a taxi but before he got out of my car, I pulled him close and kissed him on the lips. "That's so you won't forget." I told  him. He said, "I won't."
He kept his word and came back to work on my house and hustled me for other things especially after sex. I got even with Loco but I would like to tell you as another story, soon.