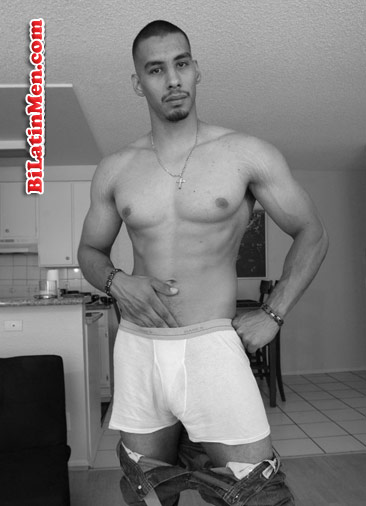 So this a time when I had sex with one of my str8 friends (to hide his identity we'll call him Roberto).
Well, let me describe Roberto, he's Latino, tall light skinned and blue eyes. He dresses kinda thuggish...aww yummy my favorite kind of man! LOL He's 21 with 8 1/2 inch cock. I'm 5'9", nice tight ass with a 7 1/2 inch dick. I'm a light skinned Latino. I'm very fem. I'm a bottom and love getting dick! LOL Ok back to the story...
Roberto and I were hanging out one day at his house, just drinking and smoking...and knowing the slut that I am, I made sure that he was gettin high and drunk more than I was...and let me tell u, he got so fuckin drunk and high
So once I knew he was drunk, I started grabbing his dick through the pants and then he said, "You want it?"
I was like, "Hell yeah papi. Damn you don't know how long I've been waiting for u to say that."
So I unzipped his pants and took them off and exposed his nice smooth uncut cock. I just started going at it like crazy, licking that dick from the head to the balls. I swallowed that shit whole, making sure I got every inch of his dick in my throat...AWW DAMN it felt good in my mouth, just pulsating in my mouth, growing from how good I was sucking that shit... He was moaning and pushing my head down deeper...and me enjoying every second of it!
So then once I got it all wet and slippery, I sat on top of the dick and started riding it like the lil bitch I am. Roberto was just moaning, fucking me good. I loved his dick in me fucking me so good, and me leaving him hickeys on neck, leaving my mark on him...LOL Damn his dick felt good.
So then he bent me over on his couch, fucking me doggie style. Damn, it felt good cycling my tight ass...
And after a good 20 minutess of fucking my ass, he said he was gonna cum. So I turned around and started sucking his dick again and then he came in 5 warm shots of cum in my mouth and on my face. Damn it was so delicious. Fuck! so that nite I laid him on his bed and I fell asleep on his couch...
In the morning he got up and saw the hickeys and asked what happened, so I told him and he liked it. So after that he would fuck me every now and then.
But now we haven't talked since he moved to Michigan with his family.
Well, I'm from Texas. My email is aaron_rodriguez_23@yahoo.com so I'm looking for a cute top from 19-25 year old...hit me up if u want to know anything else...peace