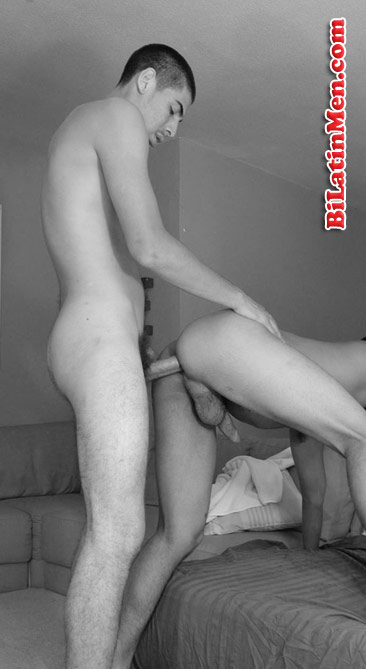 What's up? I'm here to tell u about something that happened to me. This happened about 3 months ago. I'm 18.
I used to work at a small corner store (puesto), so I had da keys because I had to go in early to get everything ready before opening time. Well about two weeks before, two ladies and a guy walked in there and gave me some business cards, saying that they were witch crafters n shit.
They were latin people so I wuz like whatever. The guy wuz luking good. He was tall with a goatee, nice body and caramel skin.
So later that day I decided to call them because I needed some work done. So the guy picked me up after work and took me to their house. I went in and I talked to the lady about what I needed done.
So she told me it wuz gonna be about 200 dollars for what I needed done. But I didn't have the money so I decided to tell them to go to my job before opening and I would hook them up with whatever they wanted in exchange for the $200. So they agreed.
The next morning I got to my job, and the guy pulled up. He was by himself so I wuz like whatever. He started picking up stuff he wanted, but all the time he wuz there, he kept grabbing his VERGA. And he kept on n on. I wuz so horny at that time.
Well, when he finally finished, I thought I wuz gonna go with him to his house so that the lady could start working on me. But he told me she had actually gone out of town, but I wuz already inside the car with him.
While we were in there he kept grabbing his VERGA, and he told me he thought he had twisted his foot playing soccer, but he didn't want to tell his wife because she was gonna get mad.
So he asked me if there was anyone that could give him a massage in his leg to see if it would get better. So I said I would do it. Then we left and parked on a quiet street, and we went to the back seat.
So I started doing the massage, and I asked him to pull down his pants. He agreed so I kept massaging his leg, and he kept grabbing his VERGA in my face.
So I asked him if I wuz done, but he told me he wuz hurting all the way to his waist. So I asked him to take his boxers off, and he agreed. When I saw his VERGA it was huge. It was real fat and thick and uncut, and he had big guevotes (balls). All this was surrounded by a lot of pubic hair. It looked like a big surprise that I found.
I couldn't take it anymore so I told him I wuz bi. He wuz like, "And when do u feel horny?"
And I told him, "NOW!" LOL
So he told me GRAB IT. I couldn't believe he had said that. I went at it, and it felt soo damn good. It felt so fat in hand and healthy, like a big warm toy that was getting bigger and harder as I played with it. With my was watering like a whore. I couldn't wait to bury that shit in my mouth.
I asked him if he had ever gotten it sucked, and he said no, but that I could be the first one. So I went at it. His VERGA wuz good and huge. I pulled the foreskin back and massaged the head with my tongue.
He said, "Si jotito, mama esa verga." (yeah, little faggot, suck that dick.)
Since I was the first fag to suck him, I tried to suck it real good so that he will come back for more. I chocked on his big vergota all the way in my mouth, and I tried to wrap my lips all the way down to his base where his hairy pubic bush was at. I sucked him hard and soft, playing with his low hanging Mexican balls to give him all kinds of sensations. I was so happy with his dick in my mouth. Sometimes I would spin my tongue real fast around the tip of his head, and then massage the fat length to make him feel good.
We were there for about one hour, then it wuz time for me to go back to work. So he drop me off and told me we needed to meet some other day and continue.
That day never got here because they moved a week later. I wish I could see him again. That wuz the bestest VERGA ever.