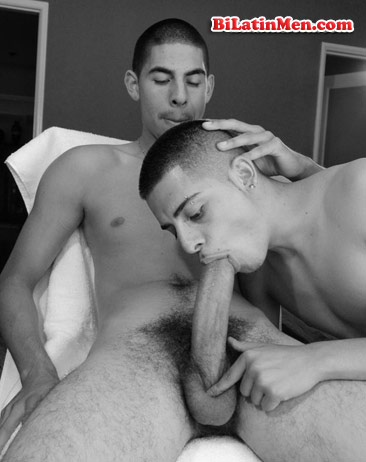 Hi, my name is David and I wrote the "Noche Loca" story. Well, tonight I"m going to tell you another story that happened not long ago.
I normally hang around a fast food restaurant that is close to my house. Since we are right next to the Mexican border, there is a bus stop there, so a lot of people from Mexico come and buy their food here to eat on their way home.
Anyway this particular night this beautiful machete (masculine guy) comes in to order and to use the restroom, so I said to myself, "It's now or never."
I followed him to the restroom and started washing my hands to see if I could see something good, and wow did I love what I saw. Mmmmmmm, this nice thick and long vergota that soft was about 8 inches and uncut.
By this time, my machote noticed I was staring at his vergota. He shook it and then asked, "La quieres?" (Do you want it?)
All I could do was shake my head Yes. We went to the stall, and there I made it grow to at least 10.5 inches hard. Mmmmm. I still remember and savor the flavor of that vergota.
I sucked him good and left him dry of his lechita (milk). He then asked me if he could stay with me that night cuz he didn't have to be in his town till the next day, and I told I could rent a hotel room and we could stay there all night until he wanted to stay.
So we went to the hotel, and there the fun began. He fucked me like four times. All this time we were kissing and hugging. The first time he came in the hotel, he came inside me. As he was cumming, I could feel all that cum in me nice and warm.
The second and third time he came in my mouth cuz he was mouth fucking me. The last time he came inside me again.
After this we still talk and shit, and since there is a holiday coming up in Mexico he told he was going to come, but this time we are getting the hotel room and then we are going to visit Mexico and come back and have some more fun.
So papis if you ever are in the Roma area, leave me an email. Maybe we can get together and write a story of our own.
Till next time love you all...............