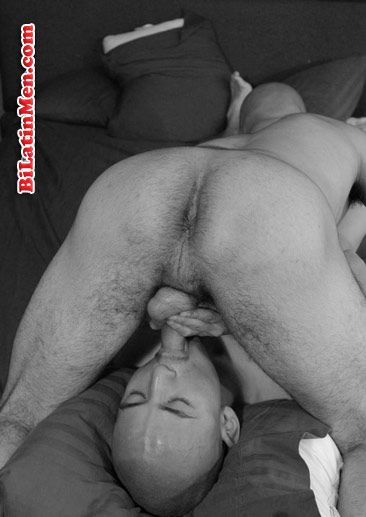 I work nights in an unloading warehouse in Hanford Ca., so I'm more of a night person type of guy. I'm 5'11", 218 lbs, I got a 7" dick, and I do a little bit of weight training to keep myself from getting too big.
So every night that I'm off from work I go out and do a little bit of jogging to keep myself from gaining too much weight and maybe pick up a lil bit of action if you catch my drift.
Anyways I was out on one of my nightly strolls around 11 pm when I happen to walk by a group of gangsters. I gave them a little wassup with my head and noticed that one of them was a former co-worker of mine who was laid off a while back. So he says to his homies, "Hey I know that foo. I'm gonna catch you guys later, cuz I wanna talk with him."
His name was Anthony, a 6' tall, bald headed, dark skinned Mexican, a little bit of a lighter build than myself, but cut and buff like hell. We start catching up about work and such, and ended up walking towards my neighborhood. By the time we get to my place it was about midnight and he didn't feel like walking home, and I conveniently didn't feel like driving, so I decided to let him spend the night at my house.
We started catching up and started doing some shots in my living room while watching some TV. I've always had a thing for him and he's always made sexual jokes about me sucking his dick and giving me a good ass pounding so it seemed like everything was going to go my way. We were both feeling the drinks in us, and he came out all of a sudden saying, "You know what foo, I've always wanted to ask you, but didn't wanna put you on the spot in front of everyone, are you gay or something? Cuz I always talked shit to you like you were and you always made remarks about taking my nut in your face and in your ass."
I was like, "Please dude, even if I were gay you'd never do any of that shit, so why you talking if you're not gonna do anything?"
He said, "Really? You think that?" while he started rubbing his dick that I could see getting hard through his pants.
"Yeah, I know you won't do shit with that. Fuck it, I know you won't do anything," I told him.
Right then and there he whipped out a nice long and hard 9" cock, with a curl going up at the end, and oozing with a lil bit of precum.
"Eat that dick up ese," he said. I got on my knees and started sucking on that big dick, while he started taking off his shirt. He started pushing my head down on his man meat, and I started gagging.
"Fuck it foo, if you can't swallow that dick, pump it and make my head harder," he said. I started pumping his dick with my hand and started sucking on his fat head, working my tongue around it.
He started rubbing my back and worked his way down to my ass. He pushed me off and started stripping naked while I kept blowing him. He took off my shirt and put his hand down my pants and told me that I'm gonna be his bitch from now on. I took off my pants and pushed him back on the couch and went back to sucking him off.
"Hey foo, lemme tear that ass up for a bit, yeah?" he asked.
I said, "Only if you lube it up."
We went to my bedroom, and I grabbed some lube out of my dresser and a rubber. He said, "Naw, I don't need that. I'm gonna nut in you."
I got on all fours on my bed and he poured what seems like half a bottle of lube in my crack and started sliding his dick in between my cheeks.
"You want it?" he asked.
"I've wanted it for a long time," I replied.
He started to slowly put it in and then began building a fast rhythm. That dick hurt like hell, and I was moaning loud as hell. He pushed me down and kept fucking me like crazy. After a while, it stopped hurting and began feeling good as fuck.
He turned me over and crossed my legs and put them on his shoulder and kept fucking the hell out of me. A little more time passed by, and he pulled out and hopped to the head of the bed and nutted in my face.
"If I'd known you were gay foo, I would have been fucking you for years now homie," he said.
We cleaned up, and we both passed out and woke up the next morning and fuck again.
Since that night, I stopped going out on my nightly strolls. Anthony got himself another job and has since moved in with me. We work out together, live together, and take turns fucking each other. He's a louder bitch than me, but loves it when I nut in his ass.