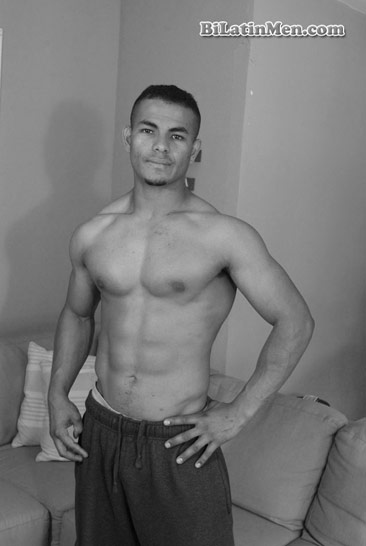 This is a true story. It happened about two years ago when I went on vacations to Mexico. I was 18 at the time. When I got there, I was gonna be staying with my cousin Beto, my uncle Jose and my aunt Rosa.
Everything was good. My cousin was 18 at the time. He was hella fine. He was straight though, about 5'7", 140 pounds, brown skin, and he told me he had a 8 inch cock, but that's for another story.
So one day we were having dinner when my aunt Rosa said she was going of to church and my uncle went along with her, so me and my cousin were home alone.
Later that day we were watching tv when there was knock at the door. My cousin looked through the window. It was his neighbor Manuel. He came in, and let me tell yo, this guy was a Mexican hot papi.
He was 28. He was 6 feet tall, with brown skin and fine ass hell. He came in and said, "Que onda wey?" (whats up foo?) to my cousin.
My cousin told him, "Ke onda?" (what up?)
He just said nothing nothing, and took a seat in the couch. Then he asked who I was. I introduced myself and just smiled.
Later the sex talk came up, and he was like, "I got some bomb ass porno back home. I'ma go get it aight.
So he went and came back. My cousin was like, "Nah I'ma go shower while you guys watch that shit."
So me and him were watching straight porno. He got hard and pulled out a 9 inch cock, a brown beauty! Big head and huge Mexican hairy balls.
He was like, "MAMAMELA PUTO. Ya se que eres maricon." (suck it bitch, I know you're a faggot.)
I didn't hesitate. I just shoved it all in my mouth and started to suck all of it in my mouth. I was soo horny, then I felt a finger in my ass. He wanted to fuck me, so I took my shorts off and sat on his big VERGA ... Slowly but surely it when in.
He stated to fuck me soo hard, I was moaning. I bet my cousin heard all the way in the bathroom. He then told me, "Ay puto, im cumming." (Oh, faggot I'm cumming.)
So I got off his big dick, got on my knees, and he shot 6 big loads of "leche" (MILK) in my face and mouth.
He then just zipped his pants up, took the movie and said, "Hey foo, I'm leaving. Tell Beto I'll come another day."
The next day he came over to see my uncle for some shit. He was holding a baby. It turns out he has a wife and 3 kids. He just acted like nothing ever happened. I still jack of to him this day.