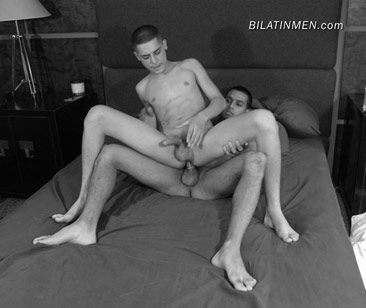 One of my good friends (you know who you are, B) loves it when a straight guy is being "seduced." So this story is dedicated to him. It's a true story by the way.

My first straight guy experience was when I was in school, back in 2008, in San Diego Cali. I was taking a class called Multimedia, where it was all about computers and cameras, very high tech. We had a project where we were shooting a mini movie, and my group decided that I should record the background music (since I love music), and our Multimedia classroom had a built in recording studio. Decked out with a mic, keyboards, guitars, drums, a piano and two computers with music editing software.
One day after school, when I had my reserved recording studio time, I got to the Multimedia class. My teacher, Mr. H was inside working on his school website. He saw me come in and said I could go in the recording room to start on my recording session.
As I walked in, I suddenly found my straight friend Juan jacking off! He was wearing his headphones (the reason he didn't hear me walk in) and was on his laptop watching porn. Straight porn of course. I stood there shocked, yet amazed at the sight of Juan's cock. It was pretty big. I would say about 8.5, uncut and pretty thick.
I immediately got hard just by looking at it. That's when he noticed me in the room and quickly shut his laptop and shoved his cock back in his shorts. I smiled and made sure that the recording room door was locked. I walked over, sat beside him and winked at him.
Juan was nervous, as I could tell by the sweat bead forming on his forehead. I told him, "It's okay, I won't tell anyone about this...and you better not either."
He nodded silently. I took his cock out, and he was still hard. I put my hand round it, and I could feel it throbbing. He continued watching his porn. I decided not to look because I don't like girls. Ha ha. And I didnt want my hard-on to go away.
So for the next 30 minutes or so, I gave Juan a hand-job. Making him moan with pleasure. Sometimes he would tell me to go faster and other times he'd tell to slow... I guess he wanted to last for a bit. So I kept jacking-him off, and with every stroke of my hand his cock got harder and I could hear him breath heavily. Until, finally, he came. On his abs and a few on my chin.
Juan looked at me, a bit embarrassed. He cleaned up and I said, "No thank you?"
He smiled and said, Thanks.
I said, "Remember what I told you: you don't tell and I won't tell. He agreed.
After that Juan and I still talked around school. But we didn't continue our "experience."