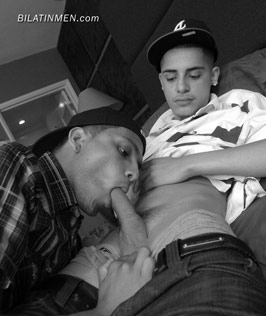 This is about me and my friend Ricardo. Just let me describe him first. He's about 5'8", black hair, about 145 lbs and looks hella good. He's clean cut and dresses like a jock (very cute). When he has his contacts in, he has the most beautiful hazel eyes, they make me melt every time I see him.
Anyway, one time he and I were hangin out just chillin. He was in some basketball shorts and a white tee, and I had on the same. (We was hoopin a bit, I'm terrible by the way.) As I was sayin, we was chillin, drinkin some Gatorade when he said that he needed to use the bathroom, so I walked him back there and he slapped me on my ass. I didn't think anything of it so I just walked back to the living room.
When he came back he sat next to me on the couch (it was a love seat), and I noticed that he had a hard on. Well, obviously he saw me looking at it because he flexed it and winked at me, and all I did was look at the tv. He knew I was gay so he knew I was dying because I have a crush on him. Soon enough he scooted closer to me and he put my hand on his dick.
Okay, my heart dropped into my ass, lol.
I gave in and started rubbing it up and down. It felt so nice, and pretty soon I was hard too. I just kept rubbing and rubbing and he was moaning his eyes back in his head. While he had his eyes closed, I pulled out his dick and it was like 7.5 inches, and I started stroking it faster and faster. Pretty soon I started licking his cockhead and slowly putting the shaft in my mouth until I was all the way to his crotch hair. He smelled so masculine that I just had to stroke my own cock too.
He started fucking my mouth really fast and deep. The first time I came, it was so explosive that I shot it on his leg and on the couch. He told me to stop and he wiped my cum off with his fingers and licked it off then he kissed me passionately.
"I want you to fuck me," I said when we let go. And he bent me over and put it in slowly. It hurt so bad because I'm a virgin and he told me just relax. He pushed his dick in all the way and I started getting used it. I was screaming his name so loud that I thought the neighbors would hear.
We were fucking for about 20 minutes when he told me to me to flip over. He shoved his dick back in and was fucking me really hard and fast. It felt so bomb.
"Baby Ima bout to cum," he said and I told him to nut in my mouth. He shot 6 loads in my throat and collapsed onto my body.
We kissed for like ten minutes and then went to go take a shower. He fucked me again except this time I fucked him too. He was so into it that it made me feel that I was a top (although I know I'm a bottom).
We still talk and fuck around often, but I don't think that we will ever be together because he told me he has a girlfriend now...
Bummer!