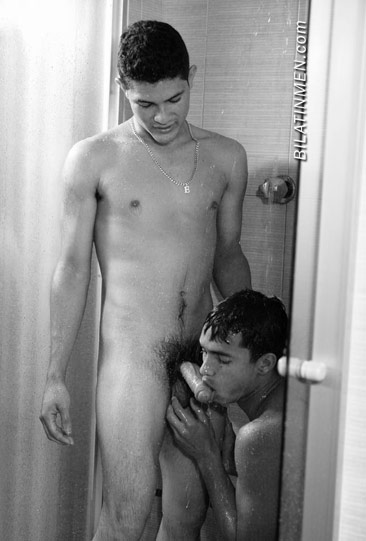 I'm back! I wrote about my 2 homeboys.
I'm going to tell you guys about a new experience I had.
It all started a couple of weeks ago when I went to my friend's house, and she introduced me to a friend of hers. His name was Luis. Man, my first impression of Luis was that he was so fine! Let me describe Luis to you. He is about 5'11", athletic built, very masculine, Hispanic, and 20 years old.
Me and Luis started talking, but I was not that interested because I thought he was straight. We continued to talk, and then he invited me to a party at his cousin's house the weekend coming.
The day came, and he came to pick me up at noon. We showed up at his cousin's house party. We danced with some girls for a while. Then we got tired and walked to the porch and we sat at the steps to talk. He confessed to me that he was bi, and I was very surprised! He was so masculine. Then with that said, I confessed to him that I was bi too.
He said, "I think it's cool that we're both bi. I feel that we connect pretty good," and I was very happy.
After that we came back in the house, then he held my hand and walked over to a room inside the house. We came in and he locked the door. I was very nervous. Then we sat at the edge of the bed and we started to kiss very passionately.
Luis turned off the lights, than we laid on the bed, kissing each other. He grabbed my hand and put it over his dick. I took it out of his pants and it got hard. It was about 8 inches. I started sucking on his dick slowly, and he started rubbing my head, so I went deeper.
Then Luis said, "I want to go inside you," and he pulled down my pants and boxers. Luis asked me to bend over, so I did. Luis went in slowly and then he started going faster. I started to moan, and so did Luis. He whispered in my ear, "I want you to be mine".
He then turned me over, and he came all over my stomach. After that we were both sweaty. We got dressed, and we cuddled for a while.
Me and Luis are very good friends. He takes me out places and is a very nice person. I'm so glad I met Luis.