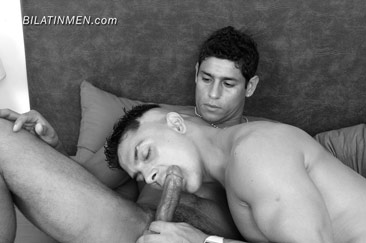 Ok, so my story starts with me, being bored home with nothing to do here in the valley. So I go outside to check out who's out.
To my surprise, I see my fine ass neighbor Risky come out of his house in just boxers. Well this guy is 5'10" with a tight body, sexy, six pack and bald with a goatee and a big 818 vallero tattoo on his chest.
So I hide so he can't see me, and I see this fine ass motherfukka just rubbin up on himself. Damn looking good.
So the next thing I know, he caught me looking. Shit, I thought he was gonna talk shit since he knows I am gay.
But he deosn't. Instead he calls me over, pulls out his verga and says, "Is this what you wanna see?"
Wow, that thing was soft n literately 8 inches and uncut. So we go inside. I start sucking on his huge cock. It bloww up to 11 inches. He isfucking loving it, saying I do it better than any of his bitches.
The next thing I know, we go into the shower. He grinds on me, and without notice sticks it up my tight ass. Fuck! That shit woke me up real quick.
So there we are, him fucking me doggy style for about an hour. Damn, that was the best hour of my life.
Next thing I know he says, "Fuck ama cum,' and he says, "Drink daddy's leche."
So I do as I am told. Damn, sweetest taste I ever tasted. I loved it.
My boring days are over. Ever since then me n him fuck everyday.