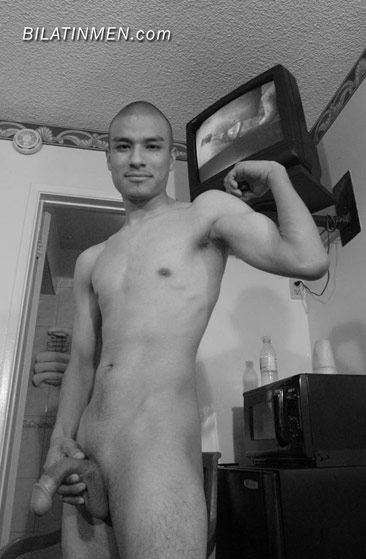 "Hey what's good fool?" I heard in the background. "Damn nigga what are you doing?"
I finally reacted. Marcos had a smirk on his face. "Hey bro, what's good?" I responded.
"Nothing fool, jus chillin," he said.
So I ask again, "Nigga what's good?"
Marcos just had this look of mischief on his face. I said, "So what are you doing later on today Marcos?"
"Nothing I just thought I go clubbin tonight see what I can get into," he said. Then he asked me if I wanted to go. I said I would cause Marcos likes to drink and when he is drunk he always gets in trouble.
So we start gettin ready in my room. Marcos and I have always gotten along. He and I always tease each other, but tonight was different. As I was about to get dressed, Marcos came out of the shower with just a towel around his waist. Now let me describe him: he is 6'1", 185 lbs., muscular, tatted up, sexy as fuck. And he is guerrito and has these hazel eyes.
I am 6'1", brown skinned, 180 lbs., with brown eyes. But seeing his body all wet and his muscles bulging I could not stop staring. "Damn," was all I could say.
"Ha ha ha," Marcos laughed, "Te gusta?" (You like it?)
"Marcos ya sabes que si. No se porque me preguntas," I answered. (You already know I do. I don't know why you ask me.)
Ha ha ha, he laughed again. After he stopped laughing, the mood in the room was tense. So I broke the silence and said, "Ya, let's get going."
As I was about to leave the room, Marcos grabbed my wrist and had a lustful look in his eyes.
"Marcos ya sabes que me gustas y yo tambien se que te gusto pero no puedemos." (Marcos, you know I like you, and I also know that you like me, but we can't.)
After that the lust in his eyes went to sadness, then anger.
"What the fuck, Daniel?! Why the fuck not???!!! You just said that we liked each other," he said.
"I don't know, Marcos," I said.
And with that Marcos pulled me toward him, so we were face to face, and he kissed me. At first I fought it, then finally I gave in.
"Was that so bad?" He asked.
"No, it wasn't, Marcos. I would be lying if I said it was bad. Pero yo si te quiero," I said. (But I do like you.)
"Then show me how much you care about me," he said.
He slowly pulled my shirt off, and the way our skin felt next to each other send a shock throughout my entire body. We were kissing with such passion and we slowly made our way toward the bed, not stopping to breath. He slowly laid me on the bed.
"Daniel, no sabes cuanto tiemp a esperaro para este momento," he said. (You don't know how long I've waited for this moment.)
With that he gave me a smile which always made me melt.
"Marcos, yo tambien tengo tiempo esperando este momento," I said. (Marcos, I too have time waiting for this moment.)
We started kissing and slowly he took off my pants and boxers. I took off his towel and he was half hard. I started to stroke his 9.5 inch uncut meat. He started to moan and groan. I started to bite his neck and worked my way down to his nipples and finally got to his dick. I gave the head a couple of licks, and he started to moan louder, "Daniel, quiero que me lo mames." (Daniel, I want you to suck it.)
And with that I started to suck his dick. I finally got all of his dick down my throat. After a while he stopped me. "Te voy hacer mio," he said. (I'm going to make you mine.)
So he spread me legs apart and with my saliva already on his dick, he slowly started to push his dick inside me. The pain was so unbareable but after a while I only felt pleasure. He started slow and got faster and deeper.
"I want to make babies with you. Marcos!!!" I yelled and screamed his name which pushed him over the edge.
"I'm cumming!!!!" he said. I made sure he didn't pull out. And I felt his dick start to spurt his nut inside me.
"THANK YOU DANIEL," was all he could say after he collapsed on me, his dick still inside me. I held him close to me and I felt his heartbeat and it matched mine.
"I LOVE YOU Marcos," I whispered.
"Yo tambien," I answered. (Me too.)
And after that we fell asleep. The next morning I was awakened by Marcos' kisses. And we made love again. That was 5 years ago. And every time we make love, it's like the first time. Love you, Marcos.