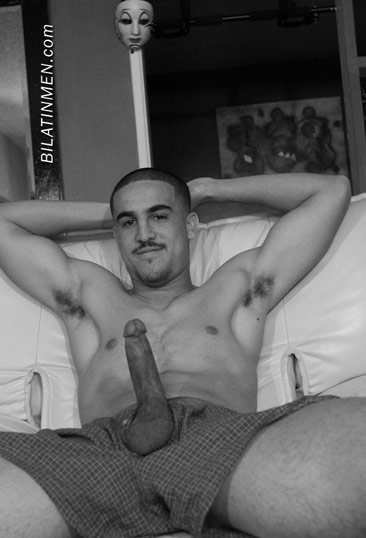 So here goes another one... I'm writing from a cell phone and drinkin… I also wrote "Me and Manuel," which is the first part of this story that appears on BiLatinMen.com.
So after the 1st time me and Manny hooked up we were hooked. He loved for me to give him head and to bend over for him. This time it involves Manny and his neighbor Raul.
We were always looking 4 an excuse to drink n hoookup. I live in El Paso Texas, and across the border is Ciudad Juarez, Mexico. I would pretty much spend every weekend in Jtown (as we call it), and enjoy drinking with my cousins and Manny.
This happened about a month after our first hook up. I went over to my cousin's house and let Marcela know that I would spend the night @ her house as I wanted to drink. She let me know that there was no problem as long as I stayed in the house, and my aunt and uncle who lived next door didn't know what I was doing.
At about 9 pm she left for work, and it was just me and Manny. We went to the liquor store and bought a bottle of vodka and some beer. We went back to the house and began drinking when his neighbor Raul who is a bus driver in Jtown came and asked for a cig. I gave him one and I offered him something to drink.
Now lemme describe Raul. He is a tall chero (short for ranchero) who wears tight jeans and fills them pretty nicely and a tejana (hat). He accepted the drink and stayed.
Now Raul did not know that me and Manny were fucking around so we couldn't do anything until he left. We started drinking, and then Raul said that he wanted to go to a strip club, and Manny agreed.
We took off in Manny's truck and ended up in a raunchy strip club that had nothing but older saggy women. We ordered a round of beer, and Manny stood up to go to the restroom. I kind of felt like going with him to see if I could suck him off in the restroom, but I hesitated and stayed at the table.
Raul asked me if there was anyone I liked as most of the strippers were prostitutes, and I told him I would rather fuck around with a dude than with the old woman here. When I said that he raised an eyebrow y me pregunto si me gustaba el camote (and he asked me if I liked sweet potato, slang for dick).
I smiled and said, "No puedo decir que no me gusta." (I can't say that I don't like it.)
And with that he winked @ me and asked me if Manny knew. To not out Manny, I told Raul that Manny didn't know anything. When Manny came back we bought more beer and smoked and talked.
I got up and said I was gonna go pee and then we should leave as it was getting late. I went into the restroom and into a stall. When I came out there was Raul standing at the urinal with his thick uncut cock at full attention. He asked me if I liked what I was seeing, and I laughed and told him yes.
He had a pretty good sized uncut cock with a huge head. He asked me to touch it, but I told him to put it away and wait till we got home.
We then left the restroom and waited till Manny finished and went back home. We came back to Manny's house and Raul said he was gonna go home and change and be right back. Once he left Manny started to try and fuck and said he was glad Raul left so we could start.
He dropped his pants and started jacking his thick cock and started telling me to give him head. I wanted to suck it so bad, but I couldn't stop thinking of Raul's cock so I told him to wait since Raul was going to come back and could catch us…and with that we heard a knock on the door.
Manny went into the restroom to hide as he had his pants down and was still hard. I went to the door and there stood Raul in a wife beater and some shorts. He asked me if I smoked mota as he pulled out a joint. I told him no, but I would try new things if he would try new things as well.
He smiled, cupped his cock in his hands and asked me where Manny was. I pointed to the restroom and started grapping his cock through his shorts. He lit up his joint, and I told him to sit down so I could suck him off. I didn't really care if Manny caught us as he could join in and it wouldn't be a big deal if he caught me and Raul.
I pulled down Raul's shorts and started massaging his balls while putting his uncut cock in my mouth. He started moaning when I went down and took him all in mouth. He had a really thick bush, but it smelled so clean as my nose went into it.
I kept deep throating as he started to face fuck me when Manny came out of the restroom. Manny stood at the doorway for a minute and looked shocked as he saw me deepthroating his hot vergon neiighbor. When Raul saw him he said, "Se avienta el guey. Mira k rico la mama." (The fucker gets down. See how good he sucks it.)
And when he said that Manny started taking off his jeans. Manny asked him, "K guey, te aguites? Vas a decirle algo a mi morra?" (So what's up, fucker, you gonna trip? You gonna say something to my girl?)
Raul le dijo, "Pues nomas no digas nada tu y esta chiton." (He said, "Well, just don't say anything yourself, and we're cool.")
So with that Manny came over and started fingering my hole as I continued to suck off Raul's verga. Manny and Raul took turns passing the joint and then I asked them both to stand up so I could suck em off. They stood up in front of me. Manny with his shaved uncut cock and Raul with his bushy thick uncut cock.
I pulled back Manny's foreskin and rubbed his cock head on Raul's head and heard them moan. I did this for awhile and finally started to alternate in sucking both of their dicks. I tried to suck both @ the same time, but it was too much dick for me.
Raul stayed on the couch and Manny started smacking his dick through my ass. He kept sliding it up and down as my mouth went up and down on Raul's uncut cock. I put Raul's balls in mouth as I felt Manny's cock head push into my ass. Manny started thrusting into my ass and I started deep throating Raul.
Raul kept holding my head down, forcing more of his cock deeper down my throat. It felt fucking good, having a big Mexican cock up my culo and a bigger one down my throat. We did this for about 10 mins, and I told them to stop so we could switch. I wanted to feel Raul's huge cock inside me!
We stood up and Raul brought the liquor, and we all took a couple of shots. I went to the table to get the ashtray, and Raul smacked my ass as I passed by and said, "Apurate guey k kiero k te sientes en ella," pointing at his dick. (Hurry up fucker, cause I want you to sit on it.)
Raul sat on the couch and leaned back. I came over and sat in his lap like if I was sitting on a chair but with his dick in me. I started grinding on his cock, and I told Manny to get closer so I could jack him off and suck him off. I kept moving my hips and feeling Raul's verga pulsate under me.
I lifted myself up and put more saliva on his pito, and then he pushed his brown cock up my ass and grabbed me by my hips. I grabbed Manny's ass and pulled him closer and started sucking his dick and playing with his balls...pure heaven...
Raul started bouncing me on his lap, and Manny started face fucking me. Raul's cock was hard as a rock and felt good. He kept bouncing me up and down, and finally he stood me up and started fucking me while standing.
When he did that I bent over completely and let him hit it as hard as he could. I could hear him grunting and moaning. I had one hand holding me up while jacking off Manny with the other.
"Que rico culito tienes," (What a good little ass you have) Raul told me while slapping my ass and ramming me harder.
"Porque no me abias dicho k te gusta la verga?" (Why hadn't you tell me that you liked dick? he asked me and I just giggled.
We fucked around and drank till the sun came up. They took turns fucking me.