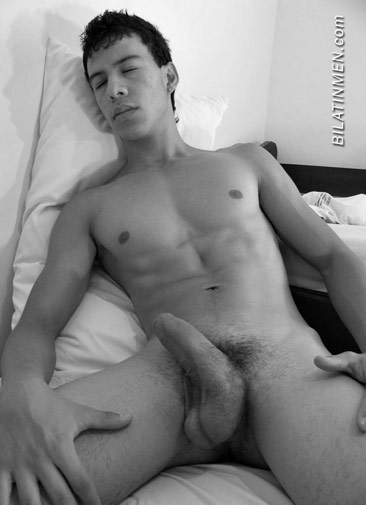 Let me start off by describing me. I'm 5'10, I'm cuban/spanish/mexican, I'm slender and masculine, and I was 18
Well it all started on a Friday morning. I live in a pretty big house that has acres of property, my uncle owns the land. He rents my family the main house and one of his workers stays in the guest house.
So my parents were off to work and my brothers were at their friends homes in other cities. I stayed home alone and was bored out of my mind so I decided to go walk in the back of my house and see what I could do. I noticed no one was in the back either or anyone's car was on the property. So me being the trouble maker, I am decided to break into my uncle's employee's house. I got in and was checking the place to see what I could find. After a good 30 minutes, I heard a car. HOLY SHIT it was him. I quickly hid under the table. I heard him come inside, take off his shoes and shirt.
My stomach was in knots. I didn't know what to do. Then I got scared he would tell my parents. (they were upset with me as it was, 4 year probation).
So I thought quickly what I should do to get out of this, so this is what I thought, I got out from under the table, walked up to him and said, "Hey Jobari, ahah!"
Jobari is latino about 5'11", dark skinned, mainly speaks Spanish.
He said, "Hi??"
He looked confused and surprised. I was in his house. So than he asked, "How you get in here?J"
I said, "I broke in."
Then I put my baby face on and said, "Plz don't tell. I'll do anything you ask."
He stayed quiet for a little while so I repeated it.
Then he said, "Come here. Sit next to me," so I did as he asked.
Then he said, "Have you ever sucked pito before?" and I said, "Why??"
Next thing you know he pulled it out. I got on my knees in front of him and started sucking. Now this wasn't my first but I haven't really been with more than 3 guys.
His dick was huge about 9, uncut, and 4 inch wide cock.
I was so turned on. I got a hard on real quick. I started sucking the tip, then played with it with my tounge. I could tell he loved it cuz he kept moaning. I put the whole thing in my mouth and sucked him for 30 min. My mouth started getting tired. I was forcing it to stretch to put his cock in it. He would ask now and then, "Te gusta?" or "Damn se siente rico." (Do you like it? or Damn, it feels good.)
So after he noticed it hurt my jaw sucking, he said, "Get up," so I did. He pulled his pants down and mine as well. He threw me on all fours on the couch. He then got Vaseline and rubbed it on his cock and on my ass. He teased me for a little with his cock, making it seem like he was going to fuck me. Then he turned on the music really loud.
And he came back and wasted no time to fuck me. He slid it in. I yelled. I was tighter than a virgin (I'm mainly top). He fucked me like no tomorrow, sticking it in and out of my asshole.
After 30 min., it started to feel real good. We kept switching positions and lasted for two hours. He finally came inside me. I could feel his cum all in my mouth. It seemed like he hadn't cum in a while. He let out moans of relief.
I sucked him clean and he said that I was the best cock sucker and the tightest he ever had. I smiled and got dressed. He did the same.
While I was dressing he said to hurry up (he was married, and his wife was about to be home).
So on my way out he introduces his brother Rogelio, but that is a story for another time.