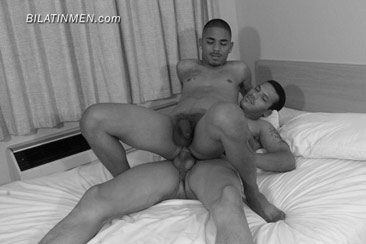 Well, it was a long night. It started out like my buddy and I were going to go to a big New Year's Eve Bash, but then we had a flat tire and had to come back home and go to a local bar and get a room at a dive motel.
My homie was drinking like crazy, and when we got back to the motel, he was already passing out. I put him to bed. I wanted to see what he had in his jeans. I know he had a nice cock cuz we were getting ready and I could see a big bulge.
I started to rub his back and then he was moaning as if he liked it very sexual. He told me, "That shit feels bomb. I'm so fucking tired."
I started to rub his hot muscular ass. He grinded it into the bed and then I started to reach for his basket. He has a nice big thick uncut cock. I wanted to suck it but I could only rub it. He moaned and acted as if he was asleep but the way he was moving his ass I know he wasn't.
Then he said, "Fuck it, just make me cum."
So I jacked him off real fast until he came in my hand. His cum was all sticky and hot in my hand, then we acted like nothing happened.