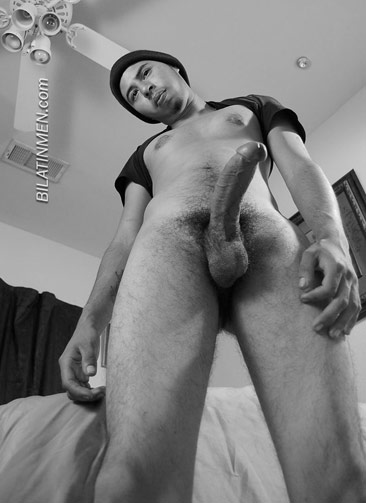 One day my mom decided that we should go to Mexico and meet more family we haven't met before. I was up for it, maybe I could meet some guys in Mexico for the time being.
Well, we get to Mexico and I met more of the family and their friends. DAMN! I met a friend that was just sexii as hell. Let's just calI him Malo. We were both 18 at the time. I can remember him now. He was 5'10", muscular slim, Hispanic (of course), tats on his calves and arms, pelon & goatee, gangster and that's my type.
So I met him and I was just really into him. We're both there, sitting down in the living room, having an innocent conversation. It was just me and him. Now as for me, I am 5'8", Latino, Muscular with a slight beer belly not really, spikey hair & stache, gay gangster. He wears the big clothes and I do too but sometimes I turn into a sexii hoe. I wear tight pants to show off my booty because I have a big butt and I get attention that way. :)
So the night comes around and I asked my Tia, "Hey, where do I sleep?"
She told me I can crash outside with the dogs or with my friend Malo. I perked up when she said that. I told her I'm sleeping with Malo and she agreed. I went to the room to find him "knocked out" so I just went to the other bed laying there. All of a sudden he whispered to me, "Hey, you awake?"
"Yeah, why?"
"Let's go to a party and get fucked up."
"Fuck it, let's go," I said.
So we left and got drunk like there was no tomorrow. We came back and it was probably 2 or 3 in the morning and we just laid there in bed, talking about anything that came up. Then he said he was horny and wanted to watch TV and we did and the Girls gone wild commercial came on. I saw a tent come up fast from the covers.
I looked over and he looked back over to me and smiled. I asked him what was he doing. He said, "I did tell you that I'm horny." So he moved the covers and there it stood at 9 inches, uncut, very thick, a perfectly straight cock into the air pointing at the ceiling. I moved my covers and mine got hard too. Mine wasn't as long but it was just as thick, and it is cut.
So we both jacked off and he asked me if I had ever sucked a guy up before. I told him no and he offered me to suck him up for an exchange of him sucking me up. I was up for it. I wanted that monster cock in my mouth. I sucked him up like a bitch in heat, just slobbered all over his cock and he did the same for me.
He then picked me up and just flipped me on the bed and he yelled "Here it comes!" in a deep manly voice, ugh it turned me on. Since I was a virgin, I didn't know how anything went or nothing. He grabbed my ass and just shoved all of his huge pole into my hole, and I almost screamed but he pushed my head into the bed. I felt like crying because it hurted so bad but then I got use to its feeling, and I started enjoying it, like I was in another world of pleasure. He did this thing where he shoves all of his dick into my ass and does a pulse type deal and it felt freaking good.
So he fucked me hard and fast and I felt his body tighten and felt like he was gonna cum. I told him I wanted him to cum in my mouth. So he took his dick out and told me to suck him up. I sucked him up for 2 minutes and he didn't tell me he was going to nut. He nutted into my mouth and damn he can nut, he nutted so much he was flowing out my mouth. He was warm, thick, sweet lol I drank every last drop of it, so I was jacking off and he decided to help me by sticking two fingers into my ass and just going super fast in and out. Damn he made me nut just doing that for me. We cleaned up and continued doing this until he passed away. I've now been single for 2 yrs., no messing around or anything, just waiting for that right guy.