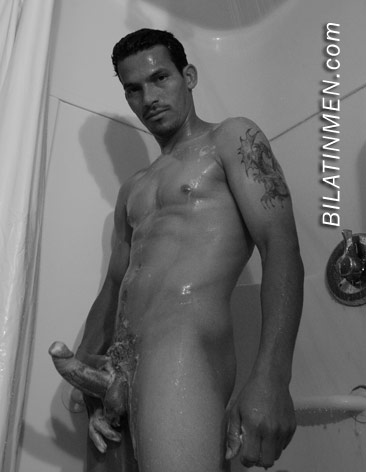 This is story is completely true.
On New Year's Day I was with my homeboy. He's 23 yrs old. He's 5'3", weighs about 163, has short black hair and dark brown eyes. His dick is about 7.5 inches, very dark and uncut. I'm 21 yrs old. I have black hair, black eyes, weigh about 150, and my dick is about 7 inches uncut.
We were outside in my backyard drinkin beers, and he went to the house to take a piss. He came back and we started talking again. I noticed he was getting horny. Then he was all like, "Oh I'm so fucking horny."
He started to rub his dick and he noticed me staring. He asked me if I liked what I was seeing. I told him I did. He then told me to get on my knees and suck his dick. So I did as I was told and took out his dick and started sucking on it. He started talking dirty to me which got me all horny.
So I started sucking on it fast and hard. He took it out of my mouth and got naked. He told me to get naked too, so I did. I wasn't worried that someone was gonna see us cuz it was dark and my backyard is covered with trees. He then told me to get on all fours cuz he was gonna fuck the hell out of me.
He started to finger me with two, then three, then four fingers. When he thought I was ready, he mounted me and I felt his big mushroom head at my hole. He started to push and it hurt like hell when it entered. I started screamin and telling him to stop. He said, "It will only hurt for a little bit, mijo."
I believed him. He started to moan and thrusting his hips harder and faster. I started moaning and screaming in pleasure. It felt so good every time his big balls slapped against my ass. He was kissing my neck and biting my ears. We went at it for about an hour and half. He loved it when I called him papi. He wanted to pull out cuz he wanted to cum on my face, but I told him no and to keep on going.
So he pounded me hard and fast and then he came in my ass. It felt sooo good :) We started to makeout and we went in to take a shower together. We slept in my bed naked. I kept on feeling his dick on my ass all night.
The next morning he got dressed and was going to leave. He gave me a big kiss on the lips. I dropped to my knees and took his member out. He said, No mijo, I have to go.
I didn't care and I sucked him anyways. He didn't get to do me cuz he HAD to leave :( But it's ok cuz we are gonna get together next weekend for round two:) So i'll keep you guys in on what we do.