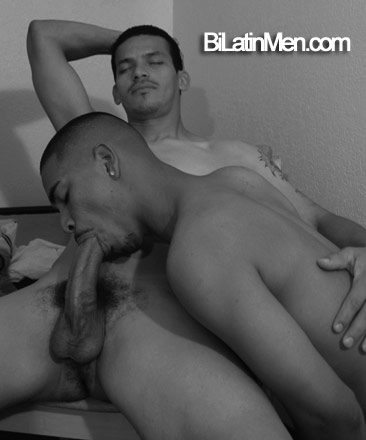 So what's up people? Well, I'm going to tell you about my 1st time. It happened in the summer of '09. One of my friends turned 20 and she asked me if I can let her borrow my house to have a kick back party with a D.J., and at first I had said no because I don't like to party or go to kick backs. I'm a pretty laid back person lol so then after a few days of her begging I told her yes. So she began to invite people and hired the d.j. and all that stuff.
Well finally the day came, and the party was going to start around 9 pm or so and I was just at home, NOT looking forward to it cause I hate parties. While I waited for everyone to get here and while my friends went out to get the beers and alcohol, the D.J. showed up with 3 other guys. Well, since I'm on the D.L. I was like what ever, but it was weird cause one of them came up to me and shook my hand and said, "Hi my name is Daniel," and I was thinking, dammit this guy is so hot but nothing's going to happen, he looked tooo straight.
Let me describe him. He was about 6 feet tall with a fade hair cut and dressed like a gangster (my type) lol so anyways the night went on.. I wasn't having fun cause I don't drink so I was kinda inside my house the whole time and after a while I went out and just sat in my yard looking at everyone.
All of a sudden Caniel comes up to me and asked me to dance, and I was like wtf?? I looked at him and he wasn't kidding. I asked, "Are u drunk??"
And he said with a big smile, "No, let's go talk in the front yard," so there we go, me with a knot in my stomach cause I was afraid of what could happen. I was only 19 and had never been with no one.
Well we were talking for a bit, and he told me that he was bi and he had only been with 2 other guys. Then he asked me for a kiss, but I'm not the type that's easy so I said no! Well pretty soon it's 3 am. Everyone was gone and my friends were wasted. The DJ started to grab his stuff and load the truck and I was helping. So by the time everything was loaded, me and Daniel went to the back to check if there was anything else, and when we were coming back he got a hold of me against the wall on the side of my house and stole a kiss. I was in shock but since it happened quick I wanted to know what it felt like again, so I kissed him back. We both smiled and he gave me his # and said bye.
So after a good 2 weeks of talking on the phone, I made the stupid decision of inviting Daniel to my house to hang out. I seriously wasn't expecting anything to happen because we weren't dating and I wanted a relationship before anything else, but things got out of hand.
At 1st I liked it because we were just hugging and kissing each other, but then he started getting grabby and touchy. I would tell him to stop but I would like it, so I returned the favor and I would touch him too.
When you get in the moment there is no going back, so Daniel pulled down his pants exposing his vergota... oh my gosh it was so big and good. It was about 8 inches and hard so he was laying on my bed, and I was just playing with it. He wasn't expecting anything more than that since I was innocent and I didn't wana do nothing. So while I was playing with it, he had his eyes closed, trying to enjoy it and I decided to surprise him by putting it in my mouth. Man, was he enjoying it, but it was so big in my mouth. I would open it wide, so I was just sucking his dick and licking his balls and just nibbling on the tip which he loved and moaned.
After a good 20 min he came 5 loads all over my hands and his stomach. It was so hot, and I was drenched with sperm all over my hands. We cleaned up and we came back to my room, and he hugged and kissed me. It was fun while it lasted, but it was the BIGGEST regret ever cause after that he stopped talking to me, but people learn from their mistakes.
If you guys have questions or anything, feel free to msg me on at my email.