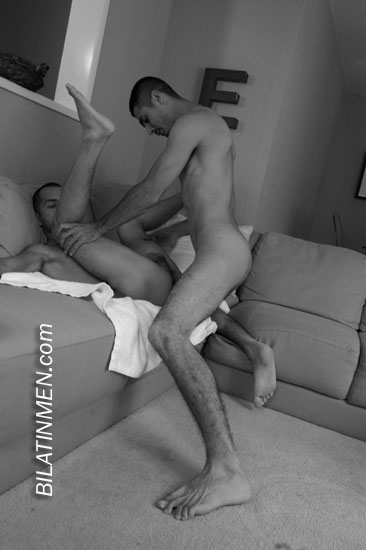 So this all started when I was 18. I'm Asian. My parents are divorced and my dad got with some Mexican girl who had a big ass family.
Anyways, there is this guy named Augi who was a friend of the family, and he was really cute and was about 18 or 19. I was alone at my dad's girlfriend's house because they went shopping and Augi was at the door. I let him in and we talked about school and all that. He said that he wanted to crash for a bit, so I let him sleep in my room.
I went into my room an hour later and caught him jacking off. He didn't even notice me and he kept on continuing. His cock was 9 inches and 5 inches thick, and damn did my mouth drop.
I made my way around my bed, got on my knees and shoved his big dick down my throat. He was surprised and tried to pull his dick out of my mouth and he kept saying he wasn't gay.
He finally gave up and let me suck his juicy dick. The whole time I was sucking his dick he kept moaning, telling me, "Fuck baby, that shit feels bomb."
After a while of sucking his dick, he shoved it in the back of my throat and fucked my mouth. He blew his load in my mouth, said thanks and walked out. I thought that I wouldn't see him again but soon enough he came back the next day and made me suck his dick again.
I have been sucking his dick for a good couple of years now, but he has never fucked me. He says I better be prepared cuz he's gonna fuck my brains out.