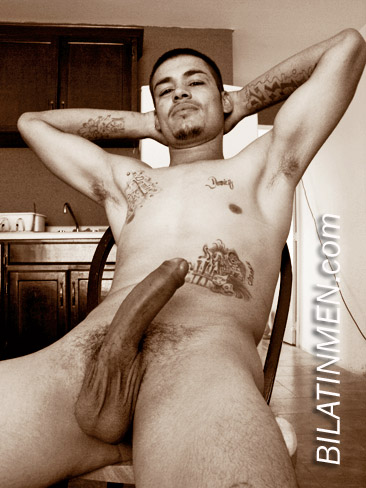 Well, this happened a couple of months ago. I am 18 years old and live in Santa Ana .

It all started when I went to go spend the night at my aunt's house. That's where I saw my homeboy Jose. The last time I saw him was when we were both little. Now he was all grown up. He's three years older than me, so he's a 21 year old Latino with brown skin and a thuggish way of acting. He greeted me and just said hi. I was so attracted to him.

The sun had gone down and I was on the couch alone, watching TV cause my aunt had left to go out, and my friend Jose was alone in his room.
Then Jose came out and told me to come with him in his room. I didn't say anything back. I just followed him. I went in his room.
He put on a movie and told me, ''So you won't be bored, let's watch a movie.''
He was sitting on the bed, and I was sitting on the desk chair close to him. Then he pulled out a bong and asked me if I wanted to try it and I said, ''No.''
So he put it away, then it got quiet, then I was focusing on the movie. Then from the corner of my eye I noticed he unzipped his zipper and was just touching himself. I just acted like I wasn't looking. Then he grabbed my shoulder and said, ''Hey fool, u wanna suck my dick?''
I didn't reply. I just got on my knees. Then he took out his dick and it was still soft. I started sucking on the head until it got harder. It grew a big thick 8 inches.
Then he told me, ''You like sucking dick, don't you?''
I said ''yes,'' then he laid on the bed and I sucked him off some more. Then I went for a kiss and we took a long kiss. Then he asked me if I have ever taken a dick up the ass and I said, ''No, but I want you to be the first.''
Then he played with my ass. Then he put his dick head in my tight culo. He started going in slow, and I liked it. Soon he started fucking me hard. We both started moaning, then he finally came inside me.

We were both sweating. He kissed me and told me I was the best and next time I wanted dick to just ask him. He told me he was gonna rest. I left and I fell asleep on the couch.
Later that night he woke me up and asked me if I wanted more, and I said yes. He sat on the couch and I got on my knees and pulled his foreskin back . He had a rock hard on, and I started to deep throat his thick 8 inch cock. I gagged a little. Then I sat on his dick and he fucked me hard. We both kissed and went back to sleep.

The next day he brought his homeboy named termite. Termite was very cute, masculine with colored eyes and I said whats up and he replied, ''What's up fucker?"
It turned me on a little, then we went to Termite's house, and Jose had to leave to work. His friend told me he would give me a ride back home. Then it was just me and Termite. He was so cute. He took off his shirt. Let me describe Termite. He was about 6 feet tall, very masculine and very thuggish with a tatted up chest, about in his early 20's.

We were both on the couch, watching TV. Afterwards, we started talking and I said, "U have a nice body."
He got kinda mad and uncomfortable that I said that. He said, "U fucking fagg."
I was kinda scared to get beat up. He said, ''You like dick, right? You fruit cake."
I just stood quiet and scared, then he pulled out his dick and told me to suck it.

I got on my knees and started sucking him off. He grabbed my head and forced me to go deep, and I got kinda scared cause I couldn't breathe. Then he told me to go to his bed.

He told me to lean on the edge of the bed, and he fucked me so hard. It felt painful, but I liked it. Finally he came on my butt cheeks.
Then we both got dressed and he asked me where I lived so he could drop me off at my house. He dropped me off at my house and left.

I never saw termite again. As for my homeboy Jose we never fucked again either cause he moved and Termite went to prison.