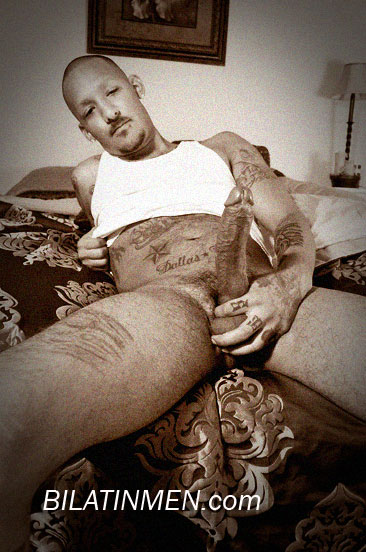 My aunt was throwing a party for my uncle at a club. I took one of my friends with me. We were drinking and then we decided to leave. I went to go drop her off. She lived in downtown El Paso, TX. (Where I was born and raised). This was about 2 am.
I decided to take the streets back home since I didn't want to risk driving on the freeway and having a couple of drinks on me. (I know drinking and driving not a good idea.) I was driving down the street when out of nowhere I get pulled over by a cop. I was like fuck!! I'ma go to jail for drinking and driving.
The cop came to my door and asked me for my license and registration. I gave him my paper work and he was like, "Where are you headed Mr. Jimenez."
I replied, "I'm on my way home."
"Where are you coming from?"
"I just finished dropping off my friend at her house and I'm just heading home," I said.
Mind you all this time I was looking at his crotch area cuz I drive a Mitsubishi eclipse and it sits low. The cop was about 6 feet something, and he was built like a motha fucker! He was fucken hot, mustache, goatee, beautiful smile.
So he kept asking me all these questions, "Have you been drinking?"
I answered, "Honestly officer, yes I have."
He kept on asking me questions. He finally asked me, "Would you want me to arrest you?"
I was like, "What does it matter? Either way I am going to jail."
He replied with, "Who said I was taking you to jail?"
All this time he was asking me these questions, he was doing it with a smile. So I got the courage and asked, "Excuse me, but are you flirting with me?"
He answered with, "What if I am?"
I was like, fuck it I have no problem with that."
So he asked again, "Would you like for me to arrest you?"
At this point I was like, "Sure, but where are you taking me?"
He was like, "I'll find a place. I just need for you to act like I'm pulling you over. Park you car safely on the street. I'm going to take you out of the car, frisk you and handcuff you."
I was so nervous because I didn't know if this shit was for real, so I was like, Fuck it. I parked. He came over, opened the door, pulled me out and placed me against my car.
At this point, there were people outside wondering what was going on. (We were on a residential area.) So he started frisking me, he started from my lower left leg and worked his way up. He got to my crotch area and started grabbing my dick. I was hard for days. He then worked his way back to my ass. He then got his handcuff and cuffed me.
The minute he grabbed my dick the way he did, I knew this shit was gonna go down. He put me in the back of his car and he drove off. He went into an alley and parked his car.
In the alley he took me out of the car, picked me up, (I was still cuffed), and sat me on trunk of the cop car. I was so turned on by all this, I was hard from the minute he had frisked me. He unzipped my jeans and pulled them down all the way down to my ankles. He started giving me head, he would come back up and make out with me, and then go back down on me.
After a good 20 minutes or so of him giving me head, I asked him to help me down. I demanded, "Unzip your pants and pull your dick out."
I started giving him head. He was about 8-9 uncut, Latino cop!! It was such a turn on when he grabbed my head and started fucking my face. All this while his gun was right next to my face. Fuck, I'm getting hard just thinking about that.
He then unbuckled his belt, unbuttoned his pants and pulled them down. He turned around and spread his nice smooth ass for me. I started eating him out like there was no tomorrow. (I love eating ass.) He was moaning, asking me to go deeper with my tongue, so deeper I went. He pulled away, he picked me, took the cuffs off, bent over against the trunk of the car, and asked me to fuck him.
I pulled out my condom, strapped it on, and went in. I was trying to be gentle, but he told me to be ruff! I was like, Aight then. For someone who liked it ruff, his hole was tight. I was fucking him, and he kept telling me to go harder and faster. He went forward and my penis came out. He walked over and got in the back of the car. He called me over to him and asked me to keep on fucking him.
He was on his back this time. I was fucking him and making out with him. I am
very flexible, so as I was fucking him I was giving him head. At this point I
was ready to cum, so I told him I was getting ready to nut. He said he wanted to swallow it, so I told him, "Let's swallow each other's cum."
He agreed. We got into the 69 position, and it happened at the exact same time. I felt his gizz as mine was exiting into his mouth.
We exchanged numbers, and we did it a few more times. It stopped after I saw him in his civilian clothes and realized he was married...