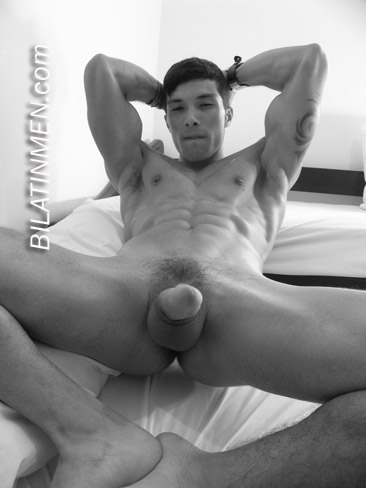 Okay, this happened yesterday. Me and my friend (Ima change his name to Luke) went to my house just to kick it. Luke is white, but he acts black. He dresses gangster. I love gangsters. I'm Mexican, so as u can guess I love cholos…
So we were just watching TV for about an hour, and we got bored, so I told him, "Let's get drunk," and he said, "Sure."
My uncle always keeps a bottle of tequila on the kitchen counter, so we started drinking. At first we were drinking on different sides of the couch.
Then I started moving closer to him and closer and closer. Finally I saw that he was really drunk. I sat on top of him. I think he liked it because he got hard. He was wearing basket ball shorts, so I can feel his hard cock and it felt so good.
So I told him, "I fucken really like you, Luke. I'm crazy about you."
I started kissing his neck and he liked it. He told me to continue, then he started grabbing my ass...I have a big ass and that's what all the guys like about me .....
So back to my story. He grabbed my ass and pulled down my tight jeans and boxer briefs. He told me to ride his dick, then he pulled down his boxer. His dick looked about 7 inches thick and pink and juicy.
His dick was so fat for a skinny guy. It look so good, so I shoved it in my ass. It hurt, but I'm a trooper and took it all in at once. Soon I started jumping on his dick, and he moaned so hard I kept calling him, "Daddy, daddy."
Then Luke told me, "Suck my dick baby. I need to bust my load."
So I went down and took his juicy pink cock in my mouth. As I sucked it, he busted a nut and he busted like 7 times. His white milk tasted so good. I wanted more and more.
After I finished, we both fell asleep naked and sweaty.
We haven't fucked since that first time, but I think he got sprung on my ass, so I know he will be back,'
So guys, hit me up to my email. If u gangster and have a big dick and like big ass, I'm a sexy bottom.
Send me a pic of your dick and face to alexhernandez7@tmail.com