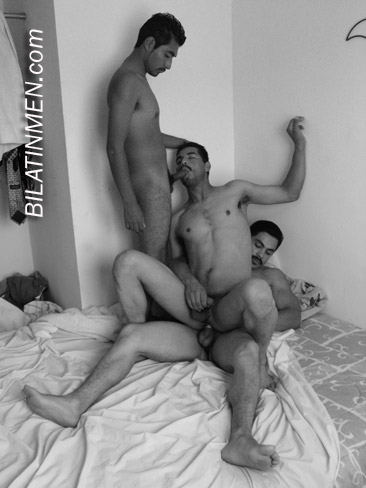 So this is something that happened a few weeks ago actually. I feel like I should start by givin u a lil info on myself, I'm 5'9", caramel complexion, and I weigh like 150 pounds.
Well neways, I had a photo shoot in New York and instead of goin home after the shoot, I decided to stay overnite in a hotel. I booked my room, and me and my two friends who go everywhere with me decided to hit tha streets.
We ended up goin to this club, ummmm tha 1800 club. Well neways we arrived at tha club lookin all good and feelin like celebs. As soon as we walked through tha door, I spotted this bangin papi chulo walkin past the bar. He was 6'3", tanned skin, green eyes with long braids down to the middle of his back and tattoos all over his neck. Papi was FINE!
I may not have said this before, but I'm tha arrogant type of nigga who always gets what I want, so that was mah target for tha night. I needed any reason to b near this guy, so I did tha most obvious, I asked to borrow his cell phone. I gave him this long bullshit story of how my friends and I were stranded, but the point is I got the phone. I used it to call my phone just so I had his number. Then I went outside and called him. At first he seemed a lil confused, but then I warmed him up a bit.
We took a little stroll down the street and ended up stoppin in the alley. he asked if I wanted a smoke.
But we all know what I wanted. So I told him, "You smoke, I'll suck."
He smiled, and I don't think he took me seriously until I was on my knees fishin in his baggy jeans for his dick. It was beautiful, 10 inches of pure uncut Puerto Rican thug dick. I sucked like it was my last meal, until he grabbed me and shoved me against tha wall.
"You wanna suck dick like a bitch, so now imma fuck you like a bitch," he whispered in my ear.
Then he spit on his dick and just rammed it into me, fucking me harder than I had ever been fucked in my life. My knees began to tremble, and I felt myself getting weak (which was odd cause I can usually take dick pretty well).
He then laid me on tha ground, and I wrapped my legs around him, and then he fucked me even harder, tears formed in my eyes, yet I felt myself beginning to nut. At that moment, he grabbed my throat and pounded even harder!
"Suck this shit, bitch," he moaned and he exploded in my mouth. It was amazing. We both got up and headed back to the club.
The next morning I went to go look at the edits of my photo shoot and you would never guess who my editor was...........the guy from the club. He acted formal and barely acknowledged me until I walked to the bathroom and called him on the cell phone again.
He came where I was and well, u know the rest. Now everytime I go to New York I call him up, and we fuck like our lives depends on it.