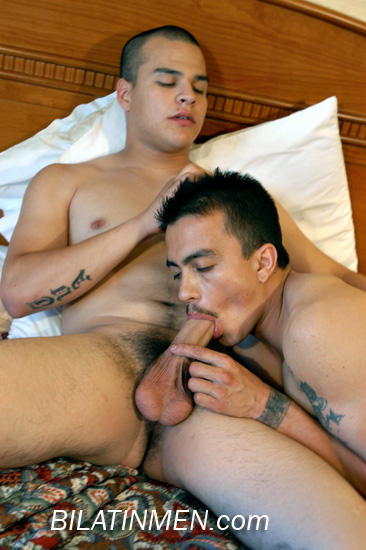 Well, my name is Salvador and I have this story about me and my cousin. Well, I have had a crush on my cousin for so long and he didn't know dat, but I knew he liked me.
Well, one day we all got drunk for my birthday and all my cousins left (his brothers) and it was just me and him, so we just sat there talking about life.
I was just telling him he's hella cool, and he would just smile in his cute thuggish face. I'm a preppy bottom boy. I just looked at him and I asked him if I could suck his cock.
He just got a smile on him and he said, "What?"
I said, "Let me suck ur cock only if u want me to."
He just said ok and laid back, but he told me not to tell anyone.
I just pulld down his shorts and when I saw his dick, it was fat and hairy and as I grabbed it, it got harder and fatter and long.
We were both 18 and he had like a long dick that was also fat, dark and thuggish, so I started to suck it and he was liking it. He seriously reminds me of da model from BIlatinmen.com the dude Jaime. I swear exactly like dat just look at him and you'll see.
Well he said he was going to nut and I told him to nut in my mouth and so he did. I felt like 4 shots of thick white snot and it was salty and delicious.
Ever since we fuck and I give him blowjobs.
So if you're a top and u wanna fuck me, just email me, 18-19 yrs old only, chubby and gangsta. I want someone to look like dat guy Jaime from the website and my cousin so hit me up people.