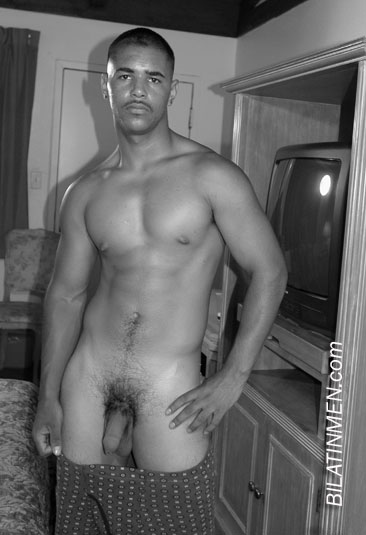 Well it's me again. I have had a couple of stories on both BiLatinMen.com and NakedPapis.com! "Lalo", "Goodbye party" "Practice makes perfect" are apparently big hits. I have had a lot of pics of guy's dicks and comments
sent to my e-mail from all over the country. Keep 'em comming. LOL I enjoy c'ing all types of dicks of different colors and sizes.
Well today I'ma write about one of my latest experiences!
It's with one vato that I met thru an e-mail. He read my stroy on NakedPapis and he hit me up. Let me refresh ur memory. I'm 5'8", average, proportioned about 145 lbs. I'm light skinned with side burns, goatee, short faded hair. Cute! Try to stay as fly as I can. With an 8" uncut cock. Very nice.
Well, diz one kat resides in Houston and I myself reside in Oklahoma City. It being such a small city my friends and I decide to go to Dallas every other weekend. After diz vato which we'll name "Sexii" ...just 2 protect his identity-- decided to contact me.
We chatted for a couple of days on Y-mess and we hit it off. At this time things were over with my ex Lalo. So I was on the prowl and just having fun! Sexii had sent me pics and I thought he was cute. Well on one weekend that we were both off, I went to dallas as usual, and he talked his friends into going too. We met up at a friend's house and finally met. It was instant lust. We apparently knew the same friends from Dallas so it wasn't weird for us to party together.
Let me describe to you guys diz fool. He was about 5'10", with dark brown eyes, dark black hair. It was pretty long and curly. A real pretty boy. No facial hair, no body hair with a 9 inch cock (of course I found that out later dat night) and a perfect bubble butt.
He is from Spain so his accent drove me nuts. I love accents. Well, we first met up on a Friday night at a mutual friend's house. We were pre-partying b4 da club. We saw each other and both of us just stayed quiet and hugged each other. We smiled and held hands. Sounds corny, I know, but that's what happened.
We partied and drank, and in da bar we bumped and grinded all night. Lusting over each other. We both literally walked all night with hardons. And it's kinda hard trying to hide an 8" and a 9 inch hard cock.
Well, we finally made it home and our friend was so nice to let us have the spare room. (Thankx, Jay).
Well, we wasted no time. We closed the door and got completely naked in like 3 seconds. We were all on each other's nuts. I immediately went after his 9 inch cut dick. Man, it was drooling in precum. Soon we were in the 69 position, and man, he can suck a fucken dick. He made me nut instantly.
But it wasn't over. He soon started to eat my ass out and fingering me while I kept his cock in my mouth. He started moaning loudly and soon enough he busted his nut in my mouth. Now I don't like cum. But at that moment it was the best thing I had ever tasted! I did spit most of it out. Just normal reflexes for me I guess!
Well, we stopped for a bit and talked. Dat didn't last very long. When we started to kiss again, and he got in between my legs, spread them up high and wide. Giving him easy access to my ass. He first kissed my ass and then started massaging it with his tongue. WOW! It drove me nuts.
While he ate my ass out, I managed to get the lube and condoms from a near cabinet. Handed it to him. He turned me around and had me sit on his face. He put on the condom and lubed his cock up. I knew his dick was too big for me to take it in any position. So I took control and sat on it until it was all in and I was able to take it. Man, he worked my ass for at least 2 hours. We did every position thinkable. He nutted about 3 times and still wanted to keep on going. He knew how to work that dick of his.
The sun came up and we were still going at it. Finally I nutted, and he nutted, and we decided to shower and go to sleep. After our shower, we got back in bed and fell asleep naked, hugging each other. We woke up around 3 in da afternoon w/boners and went at it again. But this time I was the top, and man, his ass felt so tight on my cock! We only went for about 45 minutes. He wasn't used to being a bottom so he couldn't take it. Which was fine for me.
We finally finished, got up, went out of the room and walked into the living room where all our friends were naked. Guess they decided to have their share of fun that night. We woke them up. Went to eat and did it all over again. Except dat on sat night, we had a 3sum with one of Sexii's friend from da bar!
Sexxi's friend was a fyne ass motha fucker, bald, tatted up, with a 7" uncut verga. But damn, he had sexy ass lips and acted so str8. Diz was a weekend to remember.
We still keep in touch, but we haven't seen each other since. Work schedule makes it hard for us. But I am planning to go and stay in Houston for a week pretty soon.
Well, diz is my latest story. Hope u liked it. Remember send me some pics, hit me up on Y-mess.. ;)