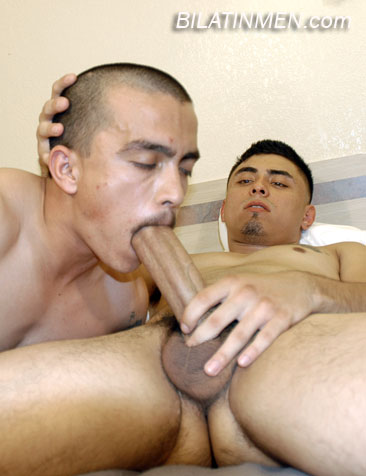 The story I'm about to tell is recent. It happened 3weeks ago. I went to the barber shop I usually go to, but my barber wasn't there. They told me he had moved barber shops. So I called him and I went to his barber shop.
We were drinking beer and we were alone. He pulled out a porn video and asked me if I wanted to watch it. So we started to watch porn. I saw he was getting hard. He looked down at me and he saw I had a boner. We looked at each other and grinned. He cut my hair & then I went home.
I called him later that night and he asked me if I wanted to go over to his house. I told him I would, so at about 9:00pm I went. He lives by himself, so we were alone again just us two. I walked into his room and sat next to him. He grabbed my hand and sat it right next to his pito(dick). He had a hard 9 inch cock.
Then I pulled him over and kissed him. He said, "Orra, so you do like me?" and he began to laugh.
I didn't say anything. I just headed down south and began to suck his dick. I knew he liked it because he began to head fuck me. After a lil while, he put me on the bed and began to eat my ass out as if I was a girl.
Once it was nice and wet, he asked me if he could fuck me. I had never been fucked before, but I was so horny I said, Yeah.
I felt a big thick verga up my ass. That shit fucking hurt, but I was acting like it didn't hurt. As he was fucking me, I started to moan and he began to fuck me harder. After a good 20 minutes, he told me to turn around so I can give him some head. So I did, but what the fucker didnt tell me was he was about to cum!
He came right in my mouth and then began to laugh. I stood up and we began to kiss. After that day, he told me he now knew he was gay, and I was the one for him.
We now live together as a couple and been dating for those 3 weeks. I'll keep you guys updated on what else we do!