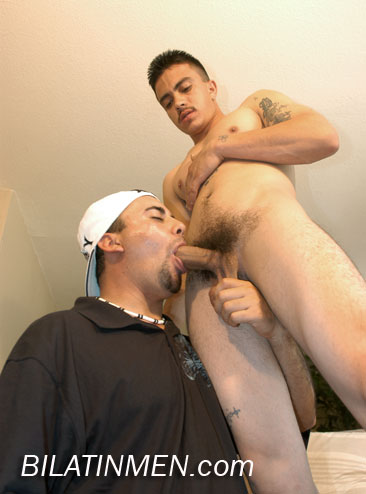 LET ME DESCRIBE MYSELF FIRST. IM 6FT,165LBS IN JUST MUSCLE.CUTE BOYISH FACE.NICE JUICY LIPS.HAZEL COLORED EYES. I HAVE TO SAY,I LOOKED VERY GOOD FOR BEING MY AGE. OK SO MY FIRST JOB WAS WHEN I WAS ONLY 18 YEARS OLD. I GOT THIS JOB AT A COFFEE HOUSE. I WAS NERVOUS BECAUSE I DIDN'T KNOW WAT TO EXPECT. MY FIRST DAY OF TRAINING WAS ALL COMPUTER STUFF ABOUT REGISTER AND SHIT LIKE THAT. I STARTING NOTICING THAT I WAS THE ONLY MEXICAN THERE THAT DAY. KINDA DISAPPOINTED ME JUST CUZ I WAS EXPECT ATLEAST A FEW VATOS THAT I COULD TALK TO ABOUT SHIT WE LATINOS HAVE IN COMMON.
INSTEAD IM STUCK WIT GRINGOS. SO THE NEXT DAY I WENT BACK FOR SOME MORE TRAINING. TO MY SURPRISE, THERE WERE 3 NEW FACES. A FYNE ASS GIRL NAMED KARINA WHO HAD BIG TITS,SMALL WAIST,BIG HIPS AND A NICE ASS AND SHE HAD GREEN EYES AND LONG BLACK HAIR. AND 2 HOT ASS GUYS ONE IS JESSE WHO WAS MY HEIGHT,A LITTLE SKINNIER THAN ME BUT STILL IN SHAPE,NICE LIPS,AND A SMILE TO DIE FOR. THE OTHER WAS NIKO WHO WAS A LITTLE SHORTER THAN ME BUT NOT TOO MUCH,HE WAS KINDA BUILT.HIS PECS WERE VISIBLE THRU HIS BLACK POLO SHIRT AND HE HAD AN ASS THAT WOULD MAKE GIRLS JEALOUS. OMG. THE WHOLE CREW I WORKED WIT THAT DAY WAS JUSS HOTT. THEY ALL INTRODUCED THEMSELVES TO ME. KARINA WHISPERED TO JESSE THAT I WAS VERY CUTE AND WATEVER.I JUST SMILED.I DIDN'T KNOW IF ANY OF THE GUYS WERE INTO GUYS. THEY DIDN'T SEEM LIKE THEY DID.VERY STRAIGHT LOOKING.SO I ASKED THEM WAT WAS PLANNED FOR ME FOR THE DAY.

JESSE SAID "YOU'RE ACTUALLY GONNA BE MAKING SOME DRINKS TODAY.AND SINCE KARINA WANTS TO LEAVE EARLY CUZ SHE HAS A DATE APPARENTLY, YOU WILL HAVE TO CLOSE WITH ME.IS THAT OK?"

"YEAH SURE.BUT I DON'T KNOW HOW TO CLOSE OR MAKE DRINKS.IM KIND OF INTIMIDATED," I SAID.

"DON'T WORRY VATO.WE GOT YOU.NIKO GETS OFF AT 11 AND HE'LL PROBABLY STAY AND HELP ME OUT," HE SAID.

SO THE DAY KIND OF SUCKED JUST CUZ I HAD TO REALLY CONCENTRATE.I KIND OF WANTED TO JUS GET TO KNOW THEM. BUT THERE WAS NO TIME SEEING AS I MESSED UP A LOT. OUT OF NO WHERE, I SPILL A WHOLE GALLON OF MILK ON MYSELF.

"FUKIN BITCH! IM SO FUKIN STUPID! MAN WAT THE FUK AM I GONNA DO?" I SAID TO MYSELF.MY SHIRT AND PANTS WERE SOAKED.

NIKO STOPPED RESTOCKING THE STORE AND CAME TOWARDS ME. "DAMN DUDE. WAT HAPPENED? HAHA DID THAT CHICK GET U NERVOUS OR SOMETHIN?" HE WAS APPARENTLY TALKING ABOUT THE GIRL LAUGHING AT ME AS SHE PICKED UP HER DRINK.

"NA. IM JUS CLUMSY. WAT AM I GONNA DO? IM FUCKIN SOAKED!" I SAID.

"ITS COOL BRUH.I HAVE EXTRA CLOTHES IN THE BREAK ROOM.FOLLOW ME AITE?"

SO I FOLLOWED.CUSTOMERS LOOKED AT ME STUPID.JESSE CRACKED UP BIG TIME AND YELLED OUT "NEWBIE."
KARINA GOT A LITTLE MAD CUZ SHE HAD TO STAY UNTIL I CAME BACK.NIKO PULLED OUT HIS GYM BAG.
"SO YOU WORK OUT A LOT?" I ASKED.

"YEAH.ALMOST EVERYDAY.I WEAR SMALLER CLOTHES THAN YOU SO THEY MIGHT BETIGHT ON U.IS THAT OK?" HE ASKED.

"YEAH.ITS BETTER THAN BEING SOAKED IN THIS WHITE STUFF." I SAID ANGRILY.

NIKO LET OUT A LAUGH AND JUSS GAVE ME A LOOK LIKE A LUSTFUL LOOK.MAYBE I WAS READING TO MUCH INTO.SO I DECIDED TO CHANGE RIGHT THEN AND THERE.DROPPED MY PANTS. I NOTICED MY BOXERS WERE SOAKED TOO. SO I TOOK THOSE OFF.NIKO JUSS LOOKED THE OTHER WAY.

"DUDE! WAT THE FUCK? GIVE ME A WARNING OR SOMETHING! SHIT!" HE SAID.

"WHY? U GO TO THE GYM ALL DA TIME. U MUST SEE A LOT OF DICKS EVERYDAY.WATS DIFFERENT NOW?" I SAID.

"I DON'T KNOW.JUS HURRY UP AND CHANGE."

I TOOK OFF MY SHIRT AND JUST STOOD THERE NAKED IN FRONT OF HIM. HE MUST HAVE THOUGHT I WAS DONE CHANGING CUZ HE TURNED AROUND.ONCE HE TOOK A LOOK AT MY CHISELED NAKED BODY, HE JUST STARED.
"WAT U STARING AT FOO?" I ASKED HIM.

"UMM..AHH..NO-NOTHING. I JU-JUST THOUGHT YOU WE-WERE DONE.DAMN.U LOOK FUCKIN HOTT!"

"WAT?!" I SAID.

"UMM..NOTHING. NOTHING.IMMA GO BACK. SORRY. DON'T SAY SHIT.I WAS JUSS THINKIN IT AND IT CAME OUT BY ACCIDENT. MY BAD FOO.IM NOT LIKE DAT.AITE? I'LL SEE YOU OUT THERE." HE SAID AND ALMOST RAN OUT. I COULDN'T HELP BUT LAUGH. I STARTED PUTTING ON THE EXTRA BOXERS HE GAVE ME WHEN KARINA COMES TO BREAK ROOM.SHE WALKS UP AND SAYS "NICE ASS!" "THANK YOU. NOT SO BAD YOURSELF." I REPLIED.

"TOO BAD IM OFF. I WOULD'VE LOVED TO WORK WIT U ON UR FIRST CLOSING SHIFT. UR TOO DAMN CUTE." SHE TOLD ME. THEN OUT OF NO WHERE I GRABBED HER AND KISSED HER. SHE KISSED ME BACK WITH SUCH INTENSE I GOT A BONER RIGHT THEN AND THERE. IT POKED OUT OF THE HOLE IN THE BOXERS. "WOW! THAT'S FUCKIN BIG.OMG!" SHE EXCLAMIED. "MY BAD. IM SORRY. I SHOULDN'T HAVE KISSED YOU.FUKIN AWKWARD. SHIT!" I FELT SO STUPID.THEN I FELT A WARM WET FEELING ON MY DICK. I OPEN MY EYES AND I SEE KARINA SUCKIN MY BIG FAT COCK. SHE ALMOST SUCKS THE WHOLE LENGTH. SHE TAKES IT OUT AND BANGS IT ON HER FACE. "DAMN.WE'RE GONNA GET CAUGHT.BUT IT FEELS SO GOOD.DAMN." I SAID TO HER.

"DON'T WORRY. NO ONE WILL KNOW.IT TASTES SO GOOD DIEGO (MY NAME BY THE WAY). ITS SO BIG AND THICK AND JUICY! FUK.. IM NOT A SLUT BUT I WANT THIS INSIDE ME NOW!" SHE DEMANDED.

"YOU SURE?"

SHE DIDN'T ANSWER. SHE JUSS DROPPED HER PANTS AND PANTIES AND JUMPED IN MY ARMS AND KISSED ME. "YEAH DIEGO.I WANT U."
SO I HELD HER UP WIT ONE ARM AND I GRABBED MY COCK WITH THE OTHER AND SLID IT IN HER TIGHT WET PUSSY. FUK IT FELT GOOD. SHE LOOKED LIKE SHE WAS IN PAIN. OH WELL.THE BITCH WANTED IT.SO I SHOVED THE WHOLE THING IN HER. SHE SCREAMED. THEN SHE PUT HER HEAD ON MY SHOULDERS. I HOPE NO ONE HEARD HER. SO I WAS TOO FUKIN HORNY TO PULL OUT I KEPT FUCKIN HER HARD. SHE STARTED TO MOAN. MY DICK FELT SO GOOD AS I PLOWED HER HARD AND FAST. "I WANNA SWALLOW IT BABY! PLEASE?!" SHE BEGGED ME.

SO I KEPT FUCKING HER UNTIL I GOT CLOSE. I PUT HER DOWN.SHE GOT ON HER KNEES. SHE SUCKED MY WHOLE DICK. "FUK KARINA. IMMA CUM! FUK DON'T STOP!" MY BALLS TIGHTENED UP AND I RELEASED WEEKS OF BUILT UP TENSION DOWN HER THROAT. SHE SWALLOWED EVERY LAST DROP. "DAMN. THAT WAS FUCKIN GOOD." THEN ALL OF A SUDDEN I HEAR SOMEONE ELSE CLEAR THEIR THROAT. JESSE STOOD A FEW FEET AWAY.KARINA GOT UP. PULLED UP HER PANTS AND TOOK OFF RUNNING.

"I HOPE THIS DOESN'T HAPPEN AGAIN ON DA CLOCK. NEXT TIME, UR FIRED." JESSE TOLD ME. "NOW CHANGE AND GET THE FUCK OUT THERE AND MOP THE STORE."

"IM SORRY HOMES. IT WON'T HAPPEN AGAIN."

THE REST OF THE NIGHT WAS SO FUCKIN AWKWARD. JESSE KEPT TELLING ME TO CLEAN EVERYTHING AND MAKE PREP FOR THE NEXT DAY.THE DAY SUCKED!. WE HAD 45 MINUTES TIL WE WERE OUT. NONE OF THE GUYS TALKED TO ME. NIKO ACTED WEIRD CUZ OF WAT HE HAD SAID AND JESSE WAS PISSED THAT I FUKD KARINA IN THE BREAK ROOM. I THOUGHT THAT I MIGHT AS WELL QUIT SINCE ON MY 2ND DAY I HAD FUKD UP ALREADY. TIME CAME TO CLOSE THE STORE AND LEAVE. I CALLED UP A RIDE BUT NO ONE PICKED ANSWERED ME. ITS MIDNIGHT, WHO'S GOING TO ANSWER THIS LATE I THOUGHT TO MYSELF.JESSE TOOK OFF. AND NIKO WAS WALKING TO HIS CAR. SO I STARTED WALKING HOME,WHICH WAS ABOUT 15 BLOCKS AWAY.SO I WALKED A FEW BLOCKS WHEN THIS CAR PULLS UP.

"HEY. UM..DO YOU NEED A RIDE?" IT WAS NIKO.

"UM..NA FOO.ITS COO. I DON'T WANT TO BOTHER YOU OR NOTHING." I SAID.

"NA GUEY. GET IN. ITS NOT BIGGIE."

SO I GOT IN HIS CAR, WHICH WAS 2007 ALL BLACK ACURA TYPE S. FUCKIN SEXY CAR. I PUT ON MY SEAT BELT AND HE STARTED DRIVING.

"SO.. ABOUT EARLY. UMM..IM SORRY FOO. IM NOT A FAG OR NOTHIN. I DON'T KNOW WAT CAME OVER ME." HE TOLD ME.

"NA..DON'T WORRY. IT HAPPENS.SOOO.. YOU THINK IM SEXY?" I BEGAN TO LAUGH A LITTLE.

"HAHA..I DON'T KNO.. I GUESS SO.. I DON'T KNOW. MAN DON'T ASK ME THAT. IT GETS ME ALL WEIRD."

"WHY? ITS COO IF YOU CHECKED ME OUT. A LOT OF GUYS DO AT THE GYM. SOME EVEN TRY TO DO SHIT WITH ME. I NEVER DID THO."

"SO...ARE YOU GAY OR SOMETHIN? WAIT..YOU CAN'T BE CUZ U FUCKED KARINA IN THE BACK. EVERYBODY HEARD HER SCREAM. HAHA. YOU MUST HAVE TORE THAT PUSSY UP WITH THAT BIG DICK? HAHA"
"HAHA...YOU THINK ITS BIG?"

"FUCK YEAH! SHIT IS LONG AND FAT AND YOU WEREN'T EVEN HARD! IMPRESSIVE." HE TOLD ME.
"HAHA.. THANK YOU. YEAH.. I GUESS ITS PRETTY BIG WHEN I GET HARD. BUT IT DOESN'T TAKE A LOT FOR ME TO GET TURNED ON. SOMEONE CAN JUSS TOUCH MY LEG AND MY DICK WILL START TO RISE. HAHA" I SAID TO HIM. I WAS TRYING TO FIND OUT WHAT HE WAS ABOUT. I THOUGHT MAYBE HE'S JUST CURIOUS OR SOMETHING. SO WE KEPT DRIVING AND I FEEL A HAND ON MY THIGHT. HE KEPT ON RUBBING MY LEG FOR A MINUTE.

"DAMN. YOU HAVE REALLY NICE LEGS. LIKE A SOCCER PLAYER." HE SAID TO ME.

"HAHA. WHAT ARE YOU TRYING TO DO?"

"I DON'T KNOW. I KIND OF WANNA SEE HOW BIG YOU GET I GUESS."

"OH FOR REALZ? YOU JUST WANNA SEE IT OR IS THERE MORE TO IT?"

"I DON'T KNOW. I FEEL WEIRD RIGHT NOW. WHIP IT OUT DIEGO."

SO I UNBUTTON THE PANTS HE GAVE ME. I REACHED IN THRU THE HOLE IN THE BOXERS HE LET ME BORROW. PULLED OUT MY 9 1/2 INCH COCK AND HE JUST STARED. HE ASKED ME IF I MINDED IF HE PULLED OVER BY THE PARK, WHICH WAS 3 BLOCKS AWAY FROM MY HOUSE. I DIDN'T OBJECT.

"WOW. THAT'S..UM.. HUGE. IM NOT THAT BIG. SHIT. I FEEL LIKE A KID COMPARED TO YOU. HOW OLD ARE YOU AGAIN?"

"IM ONLY 18. AND YOU?"

"IM 24. DAMN. IM GETTING HARD DIEGO. WAT THE FUCK IS WRONG WITH ME?"

"NOTHING IS WRONG. IT HAPPENS." THEN I SAW A TEAR COMING DOWN HIS FACE. I DIDN'T KNOW WHY HE WAS CRYING. MAYBE BECAUSE HE HATED THE FEELINGS HE FELT.

" HEY HEY..DON'T CRY FOO. ITS ALL GOOD. LETS JUSS GET SOME DRINKS AND FORGET ABOUT THIS AITE?"
"NO." AND THEN HE GRABBED ME HEAD AND KISSED ME ON THE LIPS. I DIDN'T KNOW WHAT TO DO. I'VE NEVER REALLY DONE ANYTHING WITH A GUY. I KNEW I WAS ATTRACTED TO GUYS BUT NEVER HAD THE COURAGE TO DO ANYTHING SEXUALLY. SO I KISSED HIM BACK. HIS LIPS FELT SO SOFT. HIS TONGUE GENTLY ROLLING IN MY MOUTH. IT WAS INTENSE TO SAY THE LEAST.

"I DON'T KNOW WAT HAS GOTTEN OVER ME FOO BUT I DON'T WANT THIS TO STOP." HE SAID.

"YEAH. I FEEL YOU PA. LETS GO TO THE BACK SEAT."

SO WE WENT TO THE BACK OF HIS CAR. IT WAS PRETTY BIG BACK THERE. WE MOVED UP THE SEATS FORWARD TO GIVE US MORE SPACE.

"WHAT NOW DIEGO?"

"I DON'T KNOW. DO YOU WANNA TRY THIS? I NEVER HAVE PA. SO IM KIND OF SCARED."

"ITS OK BABY. I WON'T DO ANYTHING YOU DON'T WANT TO. KISS ME BABY." HE SAID.

SO WE MADE OUT AGAIN.PASSIONATELY. LIKE NOTHING ELSE MATTERED. I STARTED TO UNBUTTON HIS PANTS. HE REACHED FOR MY COCK. HE STROKED IT FOR A LIL BIT. I PULLED HIS OUT. IT WAS A GOOD SIZE. PRETTY THICK TOO. SO I STROKED HIS. MY EYES WERE CLOSED AND I FELT I HOT WET BREATH ON MY COCK.
"FOO..THIS LOOKS SO GOOD TO ME. IS IT COO IF I SUCK IT?"

"DON'T ASK PA. JUST GO FOR IT."

AND GO FOR IT HE DID. HE LICKED THE HEAD. HE LICKED THEM WHOLE THING BEFORE FINALLY PUTTIN IT IN HIS HOT LIL MOUTH. HE SWIRLED HIS TONGUE AS MY DICK WAS INSIDE HIS MOUTH. HE TRIED TO SUCK THE WHOLE THING BUT HE KNEW HE COULDN'T. HE WAS DOING A GOOD JOB FOR A FIRST TIMER.
"DOES IT FEEL GOOD BABY?"

"FUUK YEAH PA!. REAL GOOD."

"MY TURN BABE. PLEASE?" HE ASKED ME.

SO I REACHED FOR IT.PULLED DOWN HIS PANTS AND BOXERS ALL THE WAY OFF.HE HAD A NICE SET OF BALLS. ALMOST HAIRLESS. SO I KISSED THE HEAD FIRST. TASTED THE PRECUM ON THE TIP. DIDN'T TASTE BAD. I LICKED HIS WHOLE COCK. I LICKED HIS BALLS. EVEN LICKED HIS ASSHOLE.

"FUK BABY! THAT FEELS HELLA GOOD. DAMN." HE MOANED.

SO I KEPT LICKING HIS TIGHT HOLE. I MOVED BACK UP TO HIS DICK AND BEGAN SUCKING IT. I TRIED MY BEST TO DO WITH THE GIRLS HAVE DONE TO ME. HE MOANED LOUDLY. HE SPREAD HIS LEGS EVEN FARTHER APART. I PULLED MY PANTS ALL THE WAY OFF. TOOK OF MY SHIRT.HE DID THE SAME. WE WERE THERE. COMPLETELY NAKED. HIS TINTED WINDOWS WERE FOGGED UP. I LOOKED INTO HIS EYES AND HE SURPRISED ME BY SAYING "I WANT YOU TO FUK ME BABE."

I JUST LOOKED AT HIM AND KISSED HIM. I KISSED HIM ON THE NECK. I LEFT A LITTLE HICKIE. VERY VISIBLE THO. I KEPT KISSING HIS CHEST. HIS NIPPLES. HIS ABS.DOWN TO HIS COCK. I SUCKED IT AGAIN. I BEGAN TO LIKE IT. I BANGED IT ON MY BIG LIPS. RUBBED IT ON MY FACE. I SUCKED ON HIS BALLS. NOT TOO HARD OF COURSE. AND WENT BACK TO EATING OUT HIS ASS. HIS LEGS WERE OVER MY SHOULDERS. HIS TIGHT LITTLE HOLE OPENED UP A LIL. I STUCK MY TONGUE IN THERE. HE MOANED. I GUESSED HE REALLY LIKED IT. I KEPT ON GOING DEEPER AND DEEPER.I LICKED EVERYWHERE. "BABY, FUK ME!. PLEASE?" HE BEGGED ME. SO I TURNED HIM OVER. FACE DOWN. ATE HIM OUT A LIL MORE WHILE I PUT ON A CONDOM. HIS ASS WAS SOO WET. IT TURNED ME ON EVEN MORE! HIS ASS IN THE AIR. I SLAPPED HIS ASS. HE LIKED IT. "BABY BE GENTLE. PLEASE?" "I WILL BABY. I PROMISE."

SO I RUBBED MY COCK AROUND HIS HOLE. I SLOWLY PRESSED IT IN. JUST A LIL.HE PUT IS HAND ON MY STOMACH TO STOP ME. I WAITED FOR HIM TO TELL ME WHEN. HE TOOK HIS HAND OFF MY STOMACH AND BEGAN TO JACK OFF. "BABY KEEP GOING. SLOWLY." SO I DID. INCH BY INCH MY COCK WENT IN. HE WAS SO TIGHT. TIGHTER THAN ANY PUSSY. NEXT THING I KNEW, MY WHOLE COCK WAS INSIDE HIS TIGHT ASSHOLE. I DIDN'T MOVE. I WAITED BECUZ I DIDN'T WANT TO HURT HIM. HE MOANED. "IT FEELS GOOD BABY. OMG! BABY FUK ME SLOW K?" I DID. SLOWLY I WENT IN AND OUT. IT FELT SO DAMN GOOD. I RUBBED HIS BACK AND HIS SHOULDERS. HE LOOKED SEXY GETTING FUKED.I WENT A LITTLE FASTER. HE MOANED LOUDER. A MANLY MOAN. FUKIN SEXY.I WENT EVEN FASTER AND HARDER.
HE TURNED AROUND WITH MY DICK STILL INSIDE HIM. PUT HIS LEGS AROUND MY WAIST. "HARDER PA. HARDER. DON'T STOP K?" SO I DID JUST AS HE ASKED. I SLAMMED MY COCK INTO HIS ASS OVER AND OVER AND OVER. I LICKED HIS LEGS AS I FUKD HIM. PINCHED HIS NIPPLES. I LEANED OVER AND KISSED HIM. HE LOVED IT. HE STARTED JACKING OFF AGAIN. THIS TIME I KNEW HE WAS GOING TO CUM. SO I WANTED TO CUM WITH HIM.
I WENT FASTER AND HARDER. "IMMA CUM BABY!" HE MOANED. "ME TOO!" SO PULLED OUT TOOK OFF THE CONDOM AND JACKED OFF AND CAME ALL OVER HIM JUST AS HE CAME ALL OVER HIMSELF TOO. I SHOT ON HIS FACE, HIS NECK, HIS CHEST. ALL OVER HIM. HE WAS COVERED IN LECHE.
I LEANED OVER HIM AND LICKED SOME OFF HIS FACE. IT DIDN'T TASTE BAD. I LICKED SOME MORE AND KISSED HIM. MAKING HIM TASTE ONE OF OUR CUM. WE WERE BOTH BREATHING HARD. THE WHOLE CAR WAS FOGGY.
WE WERE SWEATING. IT WAS VERY HOT. WE JUSS LOOKED INTO EACH OTHERS EYES AND HE SAID "I LIKE YOU A LOT DIEGO. YOU MADE ME SPEECHLESS. I HOPE WE CAN DO THIS AGAIN BABE." HE TOLD ME.

"OF COURSE PA."

HE CLEANED HIMSELF OFF WIT ONE OF HIS SHIRTS. I GOT DRESSED. WE ROLLED DOWN THE WINDOW AND WE SEE THIS CAR DRIVE BY.

"OH SHIT DIEGO! THAT WAS JESSE'S CAR!"

"DON'T PLAY!? WAT THE FUK?"

"FUK. IMMA TAKE YOU HOME AITE? I HOPE SHIT DOESN'T GET AWKWARD AT WORK."

LIKE IT ALREADY HASN'T. SO HE DROVE TO MY HOUSE. WE MADE OUT AGAIN. AND I WALK TO MY DOORSTEP. HE DRIVES OFF. AND THEN I SEE A CAR PULL UP. ITS JESSE. "HEY CAN I TALK TO YOU FOR A MINUTE?" HE SAID.
I WAS SURPRISED. BUT I WALKED TOWARDS HIS CAR. HE STEPPED OUT AND HE ASKED IF WE COULD TALK INSIDE MY HOUSE. HE HAD A BOTTLE OF TEQUILA IN HIS HANDS. "I DON'T KNOW. I DON'T REALLY KNOW YOU JES," I TOLD HIM.

"I REALLY NEED TO TALK TO YOU. I'VE BEEN DRINKING AND I HAVE TO TALK TO YOU." I COULD SMELL THE ALCOHOL IN HIS BREATH. HE WAS DRUNK ALRIGHT. SO I GAVE IN AND TOOK HIM INSIDE. I SAT HIM ON THE COUCH.
I WENT TO MY FRIDGE TO GET HIM SOME WATER. I HANDED IT TO HIM. HE JUSS PUT IT ON THE SIDE AND HE CHUGGED SOME OF HIS BOTTLE. I ASKED HIM WHY WAS HE DRIVING DRUNK. HE JUST SAID BECAUSE HE HAD TO TALK TO ME. HE SAID HE GOT MY ADDRESS FROM MY APPLICATION.
SO THATS HOW HE KNEW WHERE I LIVED. HE KEPT TALKING ABOUT HOW HE SAW ME FUCKING KARINA AND HOW HE SAW ME NAKED AND HOW HE FOLLOWED NIKO AND ME TO THE PARK. "DID YOU SEE ANYTHING?" I ASKED.

"YOU TELL ME WHAT HAPPENED IN THERE?" HE REPLIED.

"NOTHING. WE JUS TALKED." I LIED.

"BULLSHIT FOO! I SAW HIS LEGS UP IN THE AIR. I SAW UR ASS! I SAW UR HEAD GO DOWN. U WERE SUCKING HIS DICK VATO!"

"NA..YOU'RE DRUNK.NOTHING HAPPENED." I CAN'T BELIEVE HE SAW EVERYTHING.

"DID HE LIKE IT? HUH? DID HE LIKE BEING FUKD BY YOU? HUH? DID HE LIKE THAT BIG DICK IN HIS ASS?" HE WAS REALLY DRUNK.

"WAT? HUH? UMM..." I WAS STUNNED.

"BET YOU I CAN TAKE YOUR DICK BETTER THAN HIM. I BET I CAN RIDE IT DIEGO.HAHA."

"YOU'RE TOO DRUNK. YOU DON'T KNOW WHAT YOUR SAYING." THEN HE GOT UP AND SHOVED HIS BOTTLE DOWN MY THROAT AND MADE ME CHUG SOME TEQUILA. IM A LIGHTWEIGHT WITH ALCOHOL. I PUSHED HIM OFF AND PUNCHED HIM. HE FEEL AND STOOD BACK UP. "YOU WANT TO FIGHT THEN FAGIT? COME ONE BITCH. HIT ME AGAIN." HE YELLED.

"FUK YOU JES! IM NOT A FAGIT!"

HE TACKLED ME DOWN TO THE GROUND. HE PINNED MY ARMS TO THE GROUND. I TURNED HIM OVER AND PINNED HIS HANDS DOWN. HE JUSS STARED AT ME. THEN HE PUSHED ME OFF. I STOOD UP AND HE PANTS ME. THEN HE PULLED ON MY SHIRT AND RIPPED IT.HE PUSHED ME TO THE GROUND. PULLED MY PANTS OFF COMPLETELY AND THE TORN SHIRT.
HE JUSS STARED AGAIN. I HAD A BIG ASS BONER. I DON'T KNOW WHY. PROBABLY FROM THE ALCOHOL OR I DON'T KNOW. "SEE. YOU LIKE IT ROUGH FAGIT. PINCHE PUTO. IMMA SHOW U WAT NIKO COULDN'T."

THEN HE GRABBED MY DICK AND SUCKED IT. "STOP JES. YOU'RE TOO DRUNK." BUT IT FELT SO DAMN GOOD. SO I LET HIM. "YOU HAVE A BIG ASS DICK DIEGO. FUCKIN JUICY ASS DICK!" THEN HE GOT UNDRESSED.
I TOLD HIM TO FOLLOW ME TO MY ROOM. HE WENT IN FIRST AND AS SOON AS I STEP IN HE GRABS ME AND KISSES ME. HIS KISS WAS INTOXICATING.LITERALLY.LOL.

HE DROPS DOWN TO HIS KNEES AND SUCKS ON MY BIG COCK. I GRAB HIS HEAD AND FUCK HIS FACE. HE ACTUALLY DEEP THROATED MY DICK! "YOU'VE SUCKED DICK BEFORE HUH JESS?" I ASKED. HE JUSS CONTINUED TO SUCK ON MY DICK. HE STOOD UP AND LAID FACE DOWN ON MY BED. ASS UP.
OMG MY FAVORITE POSITION. SO I WALKED OVER AND ATE HIM OUT LIKE I DID NIKO. I SUDDENLY HEAR MY DOOR OPEN AND NIKO WALKS IN MY ROOM. "DAMN. THIS IS WATS GOING ON? IS THIS WHY HE FOLLOWED ME?" HE ASKED ME.
I DIDN'T SAY NOTHING BUT THEN JES TOLD HIM TO JOIN IN. NIKO HAD A BONER. U COULD SEE IT THROUGH HIS PANTS. NOW NIKO HAS ABOUT THE SAME SIZE DICK AS JESSE BUT NIKO'S IS THICKER.
SO I DIDN'T SAY ANYTHING BECUZ I WAS STILL IN SHOCK. NIKO COMES FROM BEHIND AND KISSES MY NECK. HE UNDRESSES. HE HUGS ME AS JESS SUCKS MY DICK AGAIN. FUK I WAS IN HEAVEN.
ME AND NIKO START MAKING OUT AND JES GETS UP AND JOINS US. NIKO GETS UNDER ME AND SUCKS ME DICK AND JES STICKS HIS DICK IN MY MOUTH. "FUK DIEGO. U SUCK PRETTY DAMN GOOD FOO!" I MOAN IN PLEASURE.I GET UP ON THE BED. NIKO JOINS ME AND JES.
I LAY DOWN AS NIKO SUCKS MY DICK AND JES SITS ON MY FACE. EATING HIM OUT.
"IMMA RIDE YOUR BIG DICK PAPI." SO NIKO GETS MY DICK EXTRA WET FOR JESSE. HE SITS ON IT SLOWLY LETTING ME INSIDE HIS TIGHT ASS. HE STARTS GRINDING ON IT SLOWLY. NIKO PUTS HIS DICK IN JESSES MOUTH.
"DAMN JESSE NEVER KNEW WE WOULD END UP DOING THIS." HE TOLD HIM. HE STARTS FACE FUCKING HIM AS JESSE RIDES MY DICK LIKE A BITCH. I DIDN'T NOTICE I WASN'T WEARING A CONDOM. WHICH WORRIED ME BUT I WAS TO INTO TO STOP. SO I JUS KEPT GOING. I FLIPPED JESSE FACE DOWN AND SHOVED MY BIG ASS DICK INSIDE IN ONE PUSH. HE SCREAMED BUT I KNEW HE LIKED IT.THEN I FEEL NIKO LICKING MY ASS. MAN IT FELT FUCKIN GOOD.I KEPT MAKING JESSE SCREAM. "WATS MY NAME U BITCH?! HUH? WATS MY NAME?!" I ASKED HIM. "DIEGO. AHHH.. PAPI! FUK ME HARDER PAPI! I LOVE YOUR DICK INSIDE MY ASS PAPI! FASTER! AAHHH!"
SO I DID. THEN I STOP BECUZ I FEEL NIKO TRYING TO STICK HIS DICK UP MY ASS. "WHAT ARE YOU DOING?!"
"JUSS SHUT UP AND TAKE IT." HE TOLD ME.

OMG! IT HURT! HE WENT IN SLOWLY BUT IT STILL HURT. "PAPI KEEP FUCKIN ME! MAKE ME UR BITCH!" JESSE DEMANDED. SO I SLOWLY WENT BACK IN HIM. NIKO DIDN'T MOVE HE JUS LEFT IN THERE. SO I SPEEDED UP AND STARTED FUCKING JESSE AGAIN. EVERYTIME I WENT IN AND OUT OF JESSE, NIKO'S COCK WOULD GO IN AND OUT OF ME. IT STARTED FEELING GOOD. REALLY GOOD. I SOON WAS FUCKING JESSE HARDER AND NIKO BEGAN TO FUCK ME TOO. THE PLEASURE WAS AMAZING! I WAS IN BETWEEN TO HOT ASS GUYS HAVE MY FIRST GAY THREESOME AND MY FIRST TIME GETTING FUKD. OMG! I LOVED IT.
NIKO WORKED HIS DICK IN AND OUT OF ME. SLAPPING MY ASS. PULLING ON MY HAIR A LIL BIT. WHISPERING THAT HE LOVED ME. I KISSED HIM. JESSE TOLD ME TO STOP. HE PULLED ME OUT OF HIM. GOT BEHIND NIKO AND FUKD HIM. NIKO LOVED IT. I LAID THERE FACE DOWN GETTIN FUKD HARD. I TURNED AROUND WITH NIKO'S DICK STILL INSIDE OF ME. HE SPREAD MY LEGS APART. NIKO AND JES BEGAN MAKING OUT. MAN IT LOOKED FUCKIN HOTT WATCHING THEM GO AT IT. JESSE SAID HE WAS GETTIN CLOSE.
SO HE PULLED OUT,STOOD UP AND AIMED HIM DICK AT NIKOS FACE. HE CAME SO MUCH THAT I WAS COVERED IN HIS CUM. THEN NIKO SAID HE HAD TO CUM. SO HE PULLED OUT AND CAME ALL OVER ME. I WAS GETTING CLOSE AND GRABBED JESSE'S FACE AND AIMED MY DICK AT HIM. I SHOT SOO MUCH AGAIN!. HIS WHOLE FACE JUSS COVERED IN CUM. I LICKED MY CUM OFF HIS FACE AND KISSED HIM. FED HIM MY LECHE. AND NIKO DID THE SAME OFF MY FACE AND FED IT TO ME AND WE ALL ENDED UP MAKING OUT AND EATING EAHC OTHERS CUM.
TIME CAME TO TAKE A SHOWER. WE ALL WENT IN TOGETHER. NEEDLESS TO SAY. I FUCKED BOTH VATOS AGAIN. I CAME 5 TIMES IN ONE DAY. AND EVERYTIME WAS MORE INTENSE. THEY BOTH SPENT THE NIGHT WIT ME. WE WOKE UP AND HEADED TO WORK SINCE WE ALL WORKED AROUND THE SAME TIME. WE ALL GOT CHECKED AFTER WORK. I WAS TOO FUCKIN SCARED OF GETTING SOMETHING.

WORK GOT FUN. EVERYTIME I WORKED WIT THEM, WE WOULD SNEAK A KISS. WE WE DIDN'T WORK TOGETHER, THEY CAME OVER. SOMETIMES JUSS TO KIK IT. OR TO WATCH SPORTS. SOMETIMES WE REPEATED THAT ONE NIGHT. I LIVED IN A 3 BEDROOM HOUSE BY MYSELF AND THEY ENDED UP MOVING IN. THEY STILL LIVE WITH ME. WHEN KARINA FOUND OUT, SHE WAS ACTUALLY EXCITED. WE ENDED UP HAVING SEX AGAIN. ONE TIME JESSE CAUGHT US AND JOINED IN. THEN NIKO CAUGHT ALL THREE OF US AND JOINED IN. WE LOVED IT.