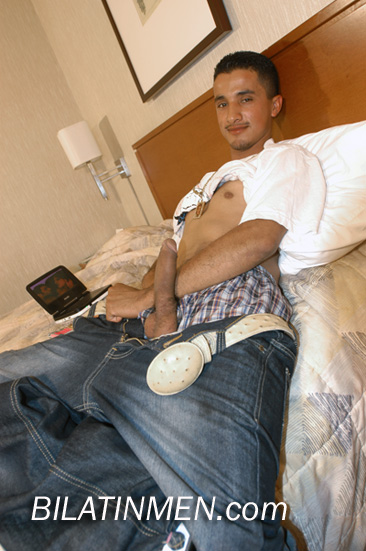 So for about 4 yearz now I been havin a mean crush on my dad's homie . He is an OG cuz him and my popz gang banged back when they were youngins . But anyway, they call his homie PONEY. He is 31 and he'z about 5'9ish thick build [ not fat ] covered in tattoes all over his arms and neck and a big one on his stomach. He wuz a baldy but now he got a fade. He knoez I'm gay and is cool with it. He always tellz me I got a phat bootie [which pisses my dad off ] but fuk it I love da attention .

So one day I stayed home from work because I wuz hungover from the night before, and my dad told me that Poney wuz going to come over to fix our sink in the kitchen so I was like fuck yea 'EYE CANDY.' So I got up, took a shower, got dressed up in sum basket ball shorts, teeshirt, my chain and my fitted cap. I wuz sagging so my phat ass can pop out from my shortz and maybe get homeboys attention.
About 2 hourz later P0NEY came through and said, 'Aye mijo, I'm here to do the sink.'
I smiled and showed him which sink inside the kitchen. I watched him for an hour work on the sink. He had just a tank top and dickie shorts on. Just watching him sweat and work with hiz hands got me hard. So after he wuz done, he asked if he could chill, so we kicked it in the living room, sitting next to each other. We started talking about work, school and shit next thing I know he's asking me if I take it in the ass and stuff.
I answered him, 'I take it like a champ.'
He laughed and thought I wuz crazy. BUT next thing I know he's asking me if I suck dick. I replied, 'Fuck yea.'
He told me he ain't got head in a year, and I jokingly said, 'Damn, poor guy.'
He smiled and just bodly said, 'U wanna suck my dick, don't you?'
As soon as he said that, my heart dropped, and he stood up and said, 'Pull it out.'
Fuck, I wuz nervous but next thing I know, I got his phat uncut dick hanging out the hole of his shorts. I was in paradise. All I could do was start licking it nice and slow. Next thing u know hiz cock stands hard about 9 inches, slightly curved. I went crazy and just took it in. It wuz so thick I could feel his cock stretch my mouth. I had drool all down my chin cus it was so thick.
He pulled my head and took off his shortz and left his boxers on with his dick out the boxer hole, and he lifted one leg on the couch and started face fucking me. The more I took his dick down my throat, he just moaned louder, saying, 'Suck daddy Poney's dick.'
He pulled my mouth off his dick and asked if it taste good I said, 'Shit is delicious.'
He smiled and said, Get up. He pulled my shorts down and asked me 2 bend over the couch, and all I could hear him say over and over wuz, 'Damn, itz nice and phat jus like I imaqined it wudd be. Ima eat this shit up!'
Then I felt his tongue start to glide on my tight asshole. Fuck, his warm wet tongue felt good sliding in and out my tight ass. He bit and licked my ass cheeks saying, my ass wuz fuken phat & he wuz qonna tear my shit up.'
We busted a 69 for a couple minutes w/ me on top, as he hand both hands spread my ass wide with a tight grip and his tongue licking and sliding in and out my asshole. Then he laid me on the floor and spread my legs wide and licked my ass one more time before he slid his phat cock in me. Fuck, it hurt and he saw it did. My asshole gripped real tight around his phat cockhead, then he slid it in harder, and I started to moan loud.
I felt his whole dick in me. Hiz cockhead kept poking my gut. Fuck, I couldn't believe my dad's fine ass friend wuz inside me and loving it. He grabbed my neck and told me to bend over, so I did. He put one leg on the couch, and his hand on my shoulder and slid that fat pito in quick.
He didn't even give a fuck. He just went full speed, his balls slapped my thighs fast and all u could hear wuz the slapping on his balls and him moaning and groaning and me yellinq cuz it felt so good. He told me in my ear that he owns my ass and only his dick could tear it up from now on, and if I gave my ass to some other foo he wuz gonna fuck me up, and him talking like that turned me on more, so I decided to bounce on his dick, letting him stand still and letting me glide up and down his phat wet dick.
He watched as my asshole swallowed his dick and slid off it. Man, it drove him crazy, so he grabbed my hipz and just started to pound the fuck out my ass hole with both of us standing up. He had me against the wall, and he started to moan louder and screamin 'FUCK, I feel it mijo!'
I felt his dick get phatter and I knew he wuz bout to nut. I pushed him off and got on my knees and stroked his phat red cock, licking just the head, until I felt a squirt of hot cum hit my lips and then an eruption of cum that followed. It went all in my mouth. Hiz cock head jerked back and forth with each shot of cum, and I caught each drop and swallowed his juices.
He laid down on the floor, sweating and exhausted. I could barely move my legs cuz he fucked me so hard. He told me that my ass waz good as fuck, better than the hynas he fucked before, and my head wuz even better, and we laughed cuz we couldn't believe da mess we made.
But I still got mine after cuz he laid me on the couch again on my back and held my legs wide open while he tongue fucked me for a hour, and then I came happy.
ME & P0NEY haven't fucked since cus we ain't had the chance 2 be alone again, but I got spring break coming up and my parents will be out while I stay home. All I know is that I'ma have fun w/ his phat cock again :]