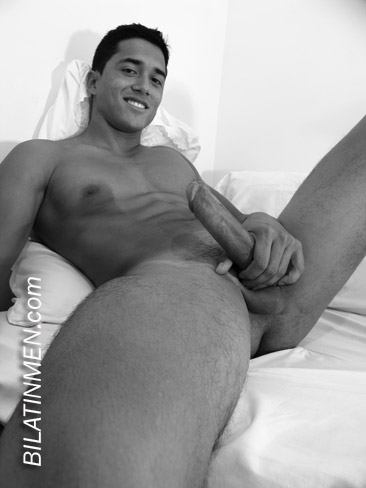 This happened to me about two months ago. It was a Friday night and like always I called my friend to see if there were any parties going down that night. There was this party in SD so me, one of my close homegirls and her boyfriend Carlos went. This fool was fucken fine 6'1, dressed pretty boy, short spiky hair, lighted skinned, ears and eyebrow pierced. So we did our thing till like one in the morning we decided to head out.

We headed to my homegirl's pad because she was all faded and shit, so she crashed in the room in a quickness. So I was about to leave, but Carlos asked me to kick it for a while. He got some beers from the frig, and we started drinking. Damn, just looking at this fool got me hard. So I was staring at him, and he looked a bit fucked up, and I wanted to try something but was a bit scared.

I asked him if he had some weed and knowing him, he busted out a sack. So we started smoking that shit, but I was taking small hits so it won't hit me as much as him. So half an hour went by, and I started asking him random sex questions. I asked him how often he fucked my homegirl and other stuff. So we kept talking and by now he was fucken high as fuck.

I noticed how he was getting a bit hard so I asked him if my homegirl ever sucked his dick, but he said no because she didn't like doing that. Then I got the courage of putting my hand on his dick and asking him if I could suck his dick. He just stayed quiet and then said, "WTF, I don't care, I'm so fucked up".
So I fucken pulled out his dick ,and it was fucken gorgeous. It was semi hard but fat. When I put it in my mouth, he started to moan. When it got hard it was big about 8 1/2 inches of brown Mexican dick. I sucked him off for about 10 minutes, then he said, "Let's go in the guest room."

When we got to the room, he laid on the bed and told me to suck him off some more. So I stared sucking, then I went down to his big nuts, and then I started to rim his fucken hot fat ass. It tasted so good and just hearing him moan and saying how good it felt turned me on even more so I told him to fuck me.

He said, "You want this fat dick, chulo? You want me in you?"

I was so fucken turned on, I told him ,"I want all of that in me."

So he turned me around and just put some spit on his dick and started to put it in my ass. This fool did not hold back. He got his dick in fast. It hurt but at the same time it felt so good. He fucked me so hard and good. I told him to sit down because I wanted to ride his dick. He did and I sat on it. Out of nowhere, he picked me up and started fucking me while I was in his arms. I started to moan so loud, I didn't even care about my homegirl because I knew she was out.

So after he fucked me for like another 30 minutes, he asked me to rim his ass some more because it felt so good. So I did as he jacked off his dick. Five minutes later, he told me he was going to nut, so I let him nut on my stomach. He let out like 3 or 4 big shots of hot creamy cum.
Minutes later, I came on myself. That was one of the hottest pieces of ass I have ever gotten and till this day we still get high and fuck around.