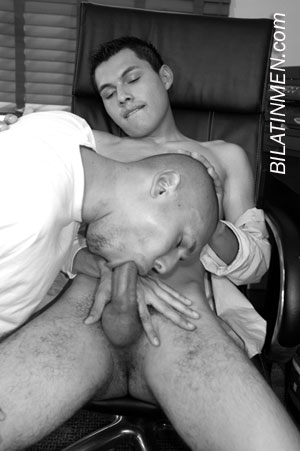 Sup, its me again!!!
This time I'm going to write about my unforgettable, skanky, sweaty adventure... When my animal sex insticts came out. (Lolz
I resided in South Central LA, California. I was on the move. From city to city.. San Fernando Valley, Palmdale, Culver City, South Gate, South Central etc.
But finally I decided to move outta state--so I set the date. And the closer it came, the more I wanted to be a slut-(don't judge, you would had done the same) The more I wanted the THUG latino dick... So I went clubbing like no other. On my last Thursday in LA I decided to hit up "Coco Bongo" in Reseda!!! You know which one.
Well, the night was young!!! I was dressed to impress, I was with my boys. And fckn horny as hell, knowing I was leaving in just 3 days I wanted to get laid. My boys and I we're fckn it up on the dance floor when all of a sudden I saw this fine as homie come through the doors. As fly as any fool can be. Rockin sum timb's, sum levis jeans, a reg white V-neck T' and a cap slanted to the side. About 5'11", grey eyes, light skinded. Damn, this fool was fine. I instantly said, I want him. I'm only 5'8", med skin complection, black eyes, dark hair, but it was faded at the moment. I dress pretty boy. I'm told I'm pretty cute. I have an 8" dick. Just to put it on the record.
Well, the night was soon to end and I needed an excuse to talk to this guy, but it didn't happen. So we figured out where the after party was at. On Balboa off the 118 Fwy. Can't say I remember the name of the infamous hostess that night, but thank you. He he
We arrived at the after party, and as soon as I walked in, there he was. Sittin on the sofa just looking chill and fckn hot. I got excited. The night continued and well everyone was intoxicated and getting horny. A few went to the bathroom and others to the rooms.
I decided I needed a cigarette, so I decided to walk outside when I saw another guy. We started talking, and we started making out. We walked inside and went into a room, but when we walked in, there was a naked 22 year old on the bed with some other guy getting dressed.
Immediately I turned around to walk out, but they called me in to talk. Talk, right!!! We talked for like 30 seconds when they started to pull down my pants. I didn't resist. They started sucking on my dick. Soon we're all naked on the bed. Making out!!!
The 22 year old was a bottom and the other guy was a top. The top had the biggest dick I had ever seen. It grew up to 10". I was scared cause he said he wanted to fuck me. I'm vers so I went for it. I had him lay on his back and I went for it. I got on top of him and started to let inch by inch inside of me.
It hurt, but I wouldn't pull away. I wanted his whole manhood inside of me. Once I was capable of handling the huge pito, the other guy started to suck my dick as I rode the 10" inches.
The bottom soon laid on his stomach. I started to fuck him, and then the other guy continued fuckin me with his 10" inches. I was stuck in between. I was enjoying it with so much pleasure. He yelled he was about to nut. I felt his dick grow another inch. He soon came inside of me, and he sat on side of the bed, just watching me fuck his other homie.
Once we nutted we laid on the bed restless when 4 guys came in the room, and asked if they could join the party. To my surprise there he was… The homeboy I wanted all night. I surely replied, "Hell yeah. The more the better."
They all quickly took off their clothes and damn, did he had a big ass dick too--another 9 or 10 inches.. Man, I felt I was in sex heaven. Lolz
I didn't even pay attn to the other guys. We all started to jack off and touch each other. The opportunity came, and I wasn't gonna let it go. I got on my knees in front of him and started to suck his huge pole.
I kissed the head, then slowly licked it, trying to savor the taste of his huge gorgeous dick. I tried to suck it all, but I dare to say I couldn't. He had huge hairless balls. I started to slurp on them, and he moaned in exctasy. I wasn't paying attn to anyone else but my new found crush, trying to please him right.
Then some other guy got down under me and started to eat my ass out. It made me want that fckn dick even more. We all soon ended on the bed, sucking each other's dicks, eating out asses and finger banging tight culos. No one fucked at that point. We all busted our nut and decided to call it a night.
I decided to go sleep in the living room. As everyone else stayed in the room sleeping. It was about 6:30 in the morning now. When all of a sudden a man walked in the door. I was still wide awake. I was in my boxers. And without a cover. He saw me and invited me to sleep in his room.
"No catch, right?" I asked.
I agreed and we went into his room. Well, needless to say, he started talking about how horny he was and if I minded if he jacked off. I said "NO."
So he started to do his business, and I had my back towards him. But he got so into it that he decided to rub his dick against my ass. So I turned around and saw a 7" fat ass dick just pointing at me. I just started to suck on it. Turned him around and started to eat his big ass out. Damn, he moaned so loud it just turned me on even more. I stuck one finger in his pucker, and he was all excited.
He wanted more and more. Finally I stuck my 8" pole with just one stroke and he panted and yelled to take it out. I didn't!!! I made him know that he was about to get fucked like never before. I held on tight to his waist. Not letting go until he started to push back onto my dick wanting it harder. Man, he then rode my cock so fast and so nice that it made me nut all in him.
But since he didn't nut, he said he wanted to fuck me. I denied. But he forcefully turned me around and spanked my ass as if I was a bitch. It turned me on. He kissed my neck and rubbed his pole on my hole and then just did to me like I did to him. He fucked me so hard in just doggystle position. It only took him like a min or two before he nutted all over my ass!!!
I soon busted another nut all over my stomach. After that I walked out of his room and saw my crush boy in some short whity tightys outside next to the pool.
I walked over and said, "Good morning."
He said, "I bet it has been a good morning for you."
I just smiled. He asked me to join him for a swim in the pool. I did. We talked for about 30 minutes, just swimming around. Then he invited me to eat at the Mcdonalds down the street. We dried off and changed.
But right before we dried off and changed, I sucked him off once again outside next to pool with just the sun watching down on us. This was the best goodbye party. I can't wait to go back and visit LA. Hope I get a welcome back party. He he.