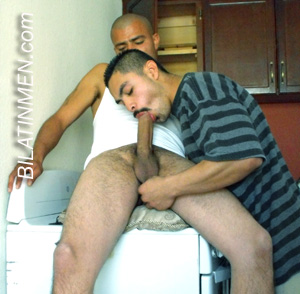 Well, it all started last year when I was 18...my aunt and her kids came to my house for Christmas. They also came with a family friend named Franky.
. I was pretty upset that I had to share my room with their friend Franky, but when they got there I saw Franky and I was happy. I got happy because he was 5'10", slim n a pelon fine as fuck.
When I saw him I got a big hard on.
So the 1st night that he slept in my room, I couldn't sleep knowing that he was a couple of feet away from me.
The 2nd night that we slept, I took the courage to actually rub his dick from the top of his boxers cause he went to bed in boxers only.
He moved in a horny way, and he looked at me with a horny look in his eyes. I saw his face. He told me, "Lo quieres papi?" (U want it daddy?)
And I shook my face yes n he pulled out a 9.5 inch dick. I was happy that he did that, n that whole night I sucked his dick n we kissed n made luv, n then the following night we started the same way, but that night we fucked n made luv till the morning.
After that day we fucked around until the day came when he had to leave. I was sad that he went back to where he lives.
Since he left, we talk n we still keep in touch. This Christmas Ima go to his house n we're gonna have some fun...