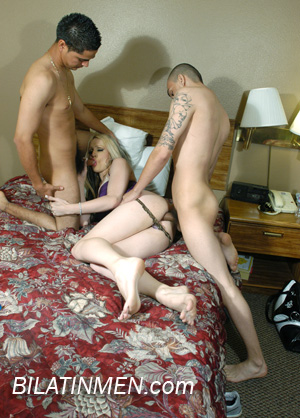 My story is about me and my barber..well, this story began one day when my hair was getting too long, so I went to the barbershop. I always go there, so they kinda know me there.
But this time I wanted to try something new, so I dicided to go to this new barber. OMFG he was so fine. He was like 5'9". He was mixed black and Mexican with light brown skin and he was 24.
So I went to get my haircut by him. We started talking, and he right away knew that I was gay, but he was coo with it. He told me that he always wanted to fuck a gay, but he was on the DL, so I told him, "Mybe I can help you."
So after he got done cutting my hair, I gave him my number. I was thinking he was never going to call me, but to my surprise he called like 2 hours later, telling me that he had just got out of work.
So I told him to come over my house, so he did. I knew it was time for me to get fucked by this fine ass foo.
So he came to my room, and we talked for a few mins, but I was getting horny just looking at him, so I told him, "So u want to fuck a gay, huh?"
He said yea he always wanted to, but that he was shy. So I grabbed his hand and pulled him close to me. I knew he was getting hard because I saw somethin rise up from inside his pants.
I started to take his shirt off. OMG he had tattoos all over his chest. I started to take his pants off too. I could see his dick, just there in font of me. I grabbed his dick with my hand, and I knew he liked it cuz he was smiling.
I put his big azz dick inside my mouth. OMG that dick was so good!!! He put his hand on my head. He made me gag, but I loved it. I sucked his head for 30 minutes. He loved it cuz he was moaning!!
He said, "Baby, can I fuck you?"
So I told him, Yes. He put me in the doggy position. He started to slap my ass with his dick. That shit felt so good. He then put his dick inside me and started to go slow, but then he grabbed my waist and he started to go faster and faster. It felt sooo good.
He was calling me Baby, so I was getting more into it. We went for it for 1 hours. He finally told me, "Baby, I'm going to cum."
So he did cum, and then I came. Then we fell asleep together.
The next morning, we went at it again. The sex he gives me is the best a gay guy can ask for from a guy on the DL. He gives it to me hard and fast and sometime slow and loving!!