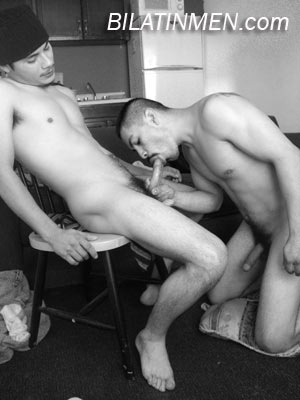 Hi, cute guys. I'm David. I live in Roma, Texas by the Mexican border.
Well, one summer night I was chilling outside my house, drinking some beers and watching who would pass by and see if I could get some dick. I'm like always horny for dick.
One car goes by and there starts the fun. This fine ass Mexican stops to ask for directions, so I was going to help him with directions on how to get to where he was looking for.
Well, let me describe to you this boy. He is 6'4", 29 years old, six pack abs, moreno and the sexiest smile. His name is Riki and he is mmmm.
Anyway, I gave him directions, but then I offered him a beer which he took fast cuz it was hot. One beer lead to another till finally he asked if he could use the restroom.
I said sure, so I showed him the way to the restroom and that's were the best part starts.
I stayed in my room to wait for him to come out and walk him out. When he came out, he had his verga hanging out of the shorts he was wearing. Mmmmm, it was a good 9.5 inches uncut, waiting for my mouth.
All I did was get on my knees and start sucking like crazy. He was moaning and screaming and wanting more, so I asked him if he wanted to fuck me. He said he had never done it to a man, but that he was so hot and horny that he finished by fucking my tight ass.
Well, he finished and unloaded his load in my ass. It felt so great as he was shouting and shooting in me that it made me cum without notice and without touching myself.
When Riki left, he was so satisfied that as soon as he got to the address he called me for more. I said yes of course. The address was just behind my house so he came back walking and we made that a crazy night.